Breath-taking Essex Kitchens – A Spotlight On Our Most-Loved Designs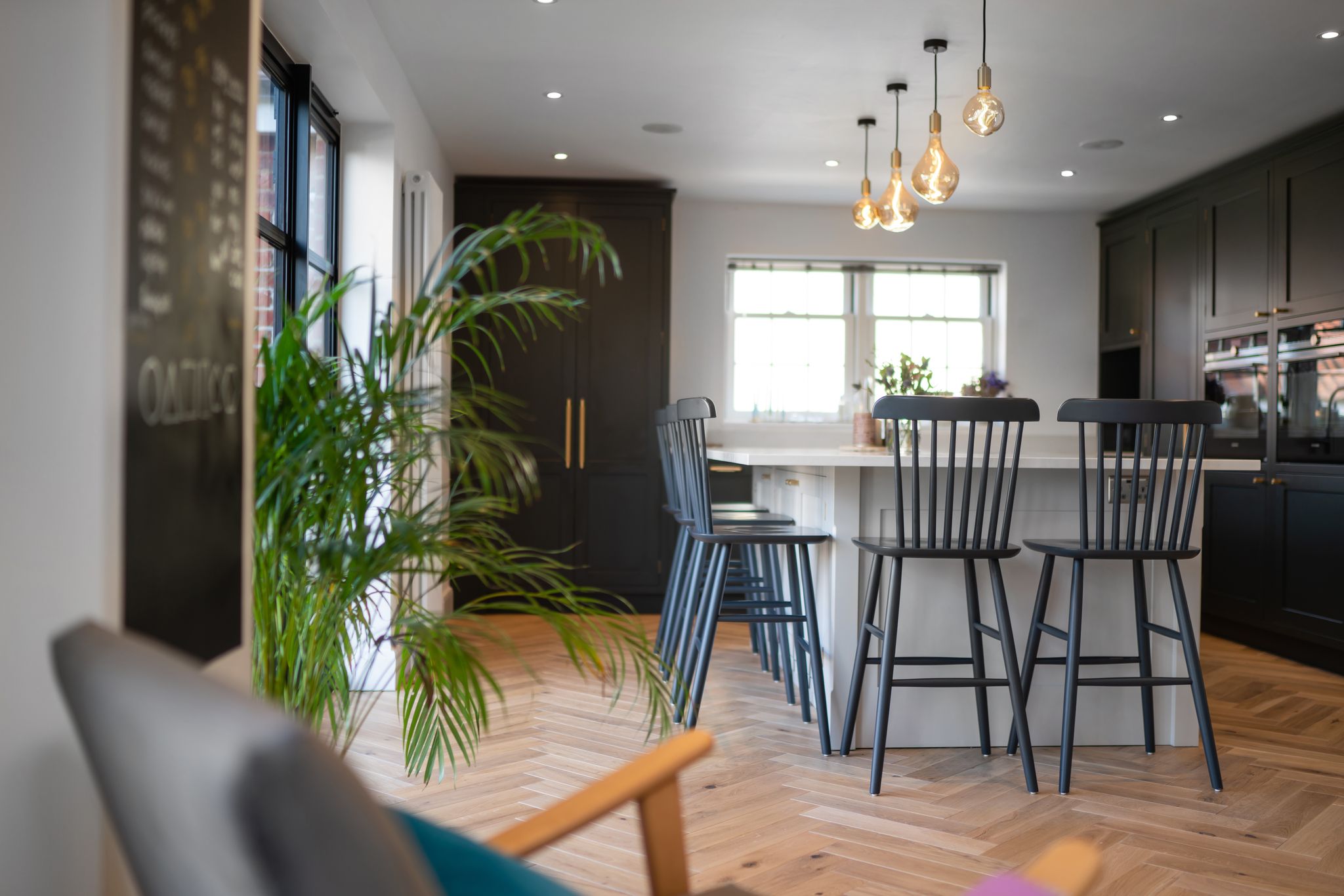 It's fair to say that over the past year our relationship with the home has changed, and while the kitchen has always been an incredibly important part of our lives, now more than ever it feels like a fundamental aspect of our daily reality. From baking lockdown banana bread to providing an impromptu home office, the kitchen offers a level of versatility that accommodates our needs, unlike any other space.
With an essential role to play that's about so much more than just cooking and preparing food, maximising your new kitchen requires character, style and practicality to come together in seamless harmony. At TBKC Essex we strive to capture the essence of our client's home. We go to great lengths to meticulously tailor our designs to complement your lifestyle and reflect your personality. To share an insight into our creative design process and to give you some fantastic inspiration, we're taking a look back at some of our most-loved Essex kitchen projects.
Unparalleled Elegance – Chelmsford
As soon as you enter this exceptional Chelmsford kitchen the beautiful silhouette of the exquisite, handcrafted cabinetry captures your attention. Painted in Farrow & Ball's Smoke Green hue, this dramatic yet elegant colour choice sets an undeniably sophisticated tone to the room. Sleek Buster & Punch brass handles and statement pendant lights brilliantly offset the sensational colour scheme, accentuating the luxurious contemporary atmosphere.
The traditional spindle back bar stools are absolutely essential to the success of this interior. Not only do they balance the use of colour within this design, tempering the cabinetry's striking presence, but their paired back farmhouse style also introduces a more informal element to the space. This softer more inviting quality is enhanced by the stunning chevron wood floor and the subtle grey tone of the kitchen island. This breath-taking Chelmsford kitchen strikes a seamless harmony between classic country elegance and modern sophisticated chic.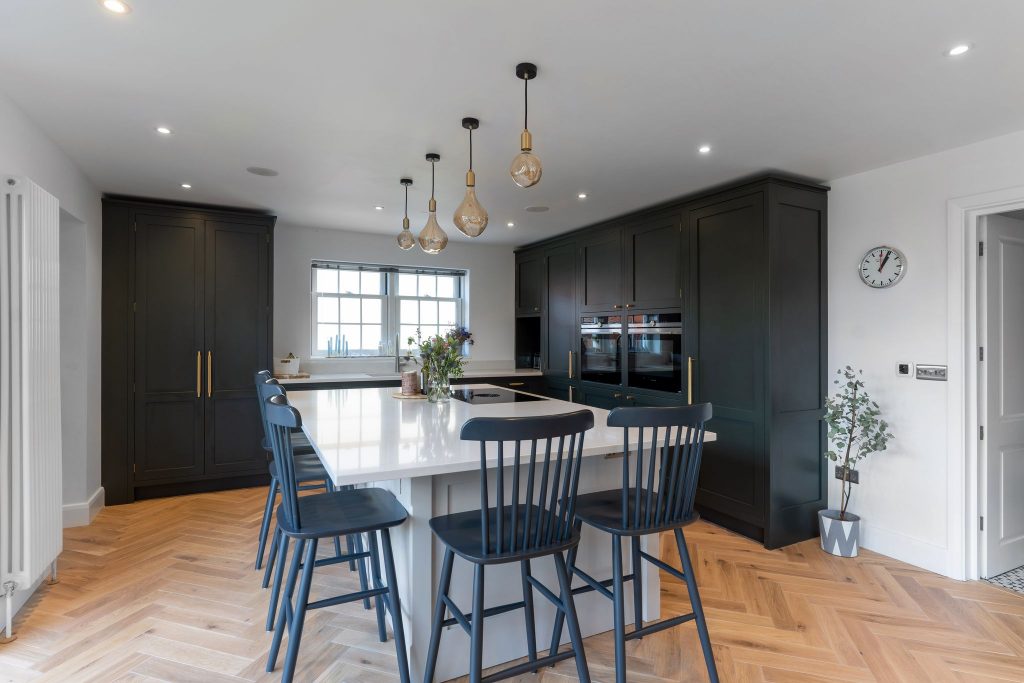 Cutting-Edge Urban Design – Brentwood
Clean lines, exquisite surface textures and a muted palette come together in this Brentwood kitchen to establish an evocative modernist backdrop to our client's open-plan living space. Flawless Concrete Quartz worktops sweep through the space, their industrial finish embodying the effortlessly stylish aesthetic of this spectacular interior. Adding to this, sleek handleless Graphite doors introduce a luxurious urban quality that's beautifully offset by accents of dramatic textural wood. These organic surface textures subtly elevate this carefully balanced cool neutral colour scheme, while bold architectural lines create a striking contrast. This refined composition represents the ultimate in contemporary kitchen design.
Industrial style filament bulb pendant lights complete this ultra-stylish interior, while sumptuous velvet bar stools inject a touch of vibrancy, establishing a sense of harmony with the adjacent living area. Though considerable attention has been given to perfecting the visual and tactile characteristics of this exceptional Brentwood kitchen, nothing has been overlooked in terms of practicality. A Quooker tap, Bora hob & Siemens double oven sit within a superbly conceived layout. At TBKC Essex, we refuse to compromise on looks or functionality.
Beguiling Charm & Authenticity – Southend-on-Sea
Featuring a beautiful, homely AGA range cooker, this classic galley kitchen makes a warm, stylish and simply stunning heart to our client's Southend home. Traditional shaker doors in rich matt black pair with warming tones of red brick and mottled copper to create a charming, cosy and distinctly sophisticated atmosphere. Bespoke copper shelves and an exposed brick feature wall give a trendy urban edge to the design, complementing the stylish choice of cabinet colour.
Despite introducing a selection of contemporary details, this sublime kitchen feels completely in keeping with the period features of the property. An original oak beam situated next to the stovetop seamlessly joins with a rustic oak worktop. The aged quality of the copper backsplash and mirrored pantry cupboard add character and authenticity. Soft glowing lighting from the under-cabinet lights and wall lights add another dimension to the space, completing the warm and inviting ambience.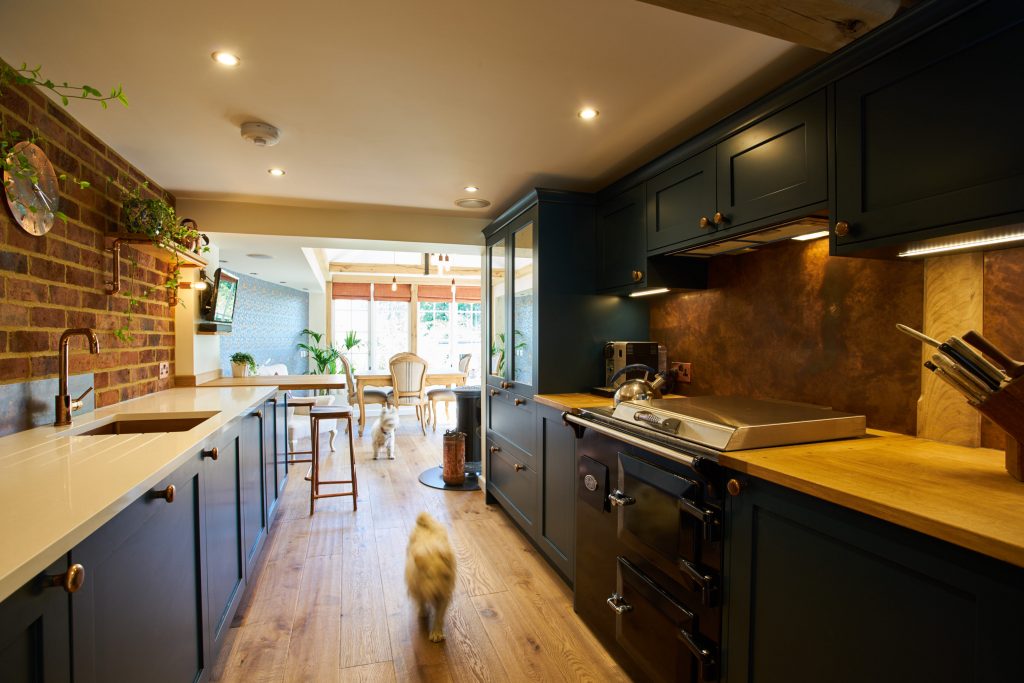 Mid-Century Meets The 21st Century – Leigh-on-Sea
At the heart of this captivating contemporary interior sits a lively retro yellow hue. Stylish dark Carbon Grey handleless doors create a bold juxtaposition, allowing the vibrant colour to take centre stage. Featured at the far end of the kitchen as a distinctive feature wall as well as making a striking accent as a glass splashback, the proportionate arrangement of this statement colour draws the eye through the space. A full flush of white paralleled in the immaculate Corian worktops and the bench seating soften the distinctive scheme, bringing a fresh modern feel.
A deep mahogany herringbone floor introduces a sophisticated vintage edge to the interior, adding depth and character to the sleek contemporary design. In clear contrast, the island dining table brings a bright and informal touch, ideal for laidback family meals. A subtle combination of elegant vintage features and clean modern details infuses this Leigh-on-Sea kitchen with individuality and impressive style.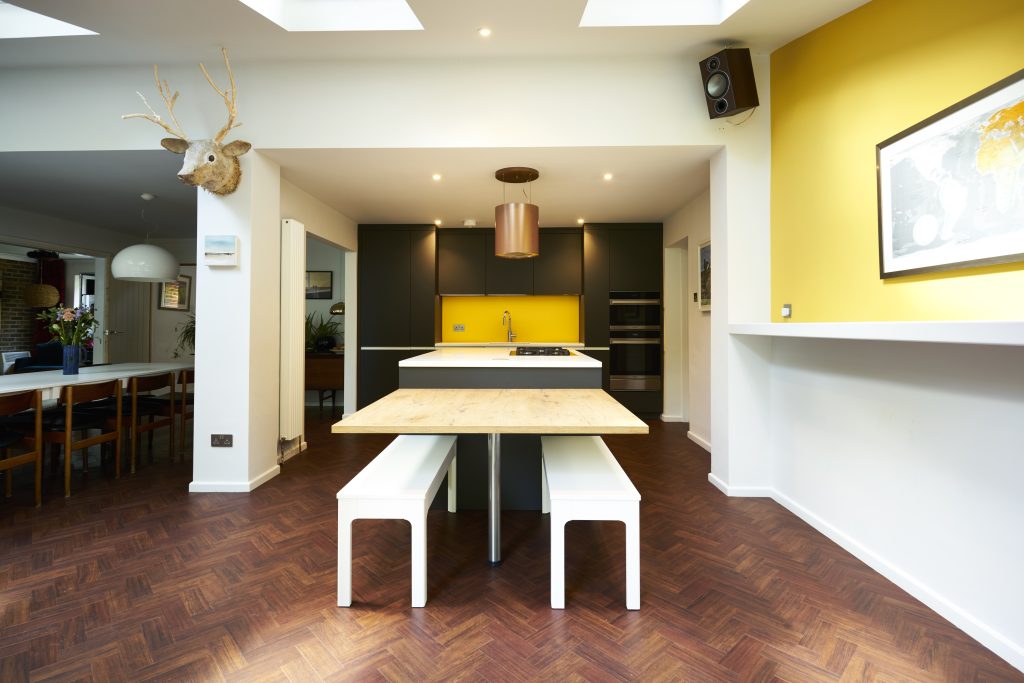 At TBKC Essex, we take a 'think different' approach to each bespoke interior we create. Every detail that goes into our designs is carefully considered in order to truly elevate our kitchens to the next level. Individuality sits alongside design excellence as we go above and beyond in our pursuit to bring functionality, unique style and longevity to our Essex clients. If you'd like to find out more about our outstanding bespoke Essex kitchen designs, please click here to contact our Stock showroom of call us on 01277 554 595.