Pink Kitchen Ideas: 5 Ways to Use This Vibrant Colour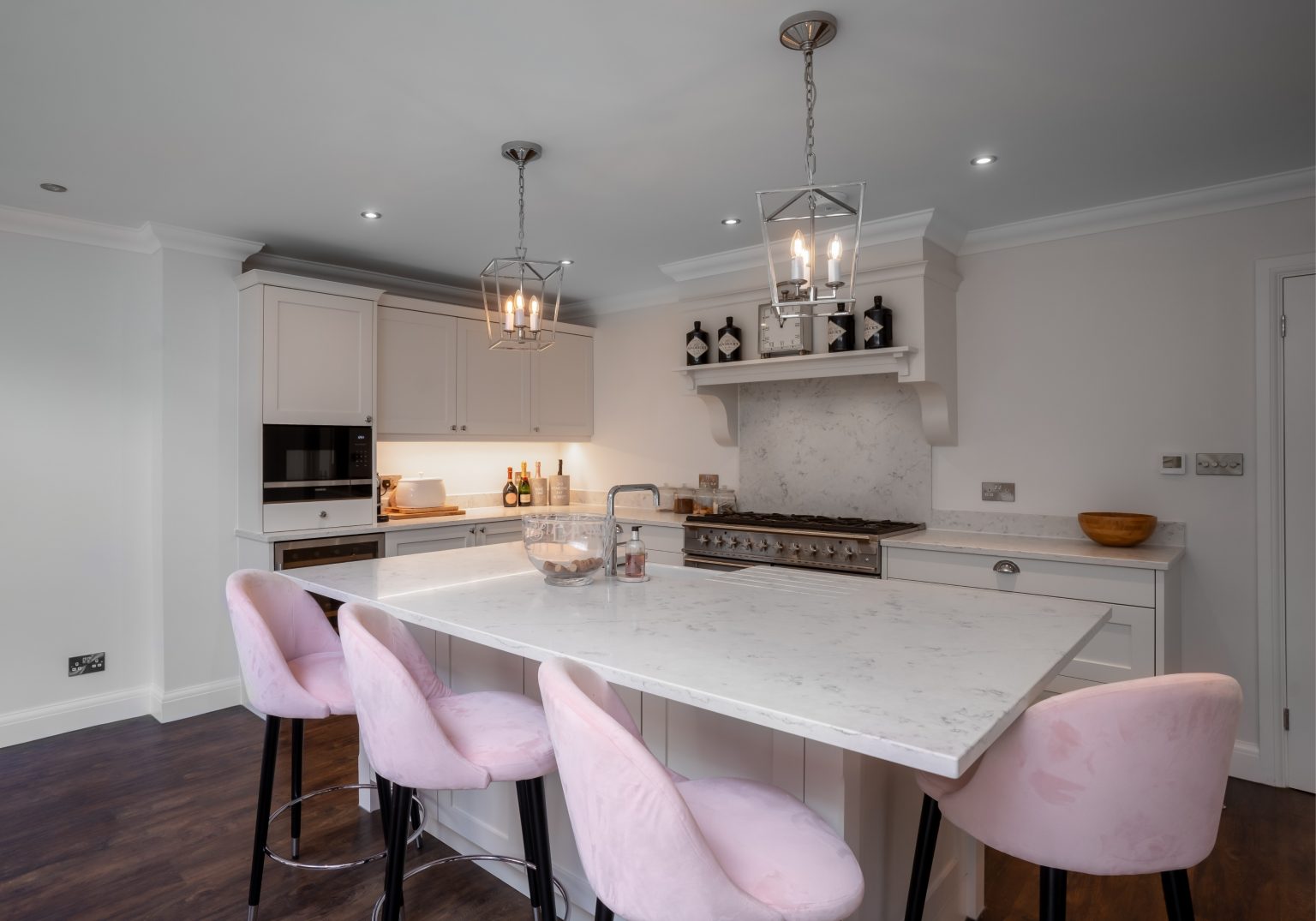 Pink has had a major moment in interior design recently. This fun, playful hue is popping up everywhere from living rooms to bedrooms and is even making a bold, impactful statement in kitchens. For those looking for some eccentric and quirky design inspiration, you may wish to consider giving your kitchen a pop of pink.
As kitchen design and installation specialists in Sussex, we thought we'd share why we think pink can be the colour scheme you need to give your kitchen that wow factor.
Why Use Pink in Kitchens?
Once considered too feminine or flippant for serious and functional cooking spaces, pink has now shed its sugary reputation. Today, stylish shades from blush to fuchsia are being embraced by kitchen designers and homeowners looking to display personality and imagination. Whether used subtly or vibrantly, pink can be used in creative and versatile ways, so don't overlook it as a colour scheme for your finishing touches.
A pink kitchen not only looks fantastic, but it can also boost your mood while cooking and entertaining. Pink is often associated with introspective feelings of playfulness and warmth, providing an often much-needed distraction from life's daily chores. As far as kitchen design goes, there's arguably no better way to inject some life and make a striking impression than by using tones of pink to create the perfect decor.
Choosing the Right Pink Hue
When deciding on your pink kitchen shades, consider the style and layout of your kitchen. What other colours will pink need to integrate or contend with? What resulting ambience will that create? Think about how much light your kitchen receives and choose accordingly, with coral or plastic tones for darker spaces, while softer touches can bring vibrancy to neutral whites or routine greys.
If you're looking to reinvigorate your kitchen with a splash of colour, pink offers almost endless possibilities. Here are five inspiring ways to incorporate pink into your kitchen design.
5 Ways to Embrace Pink in Your Kitchen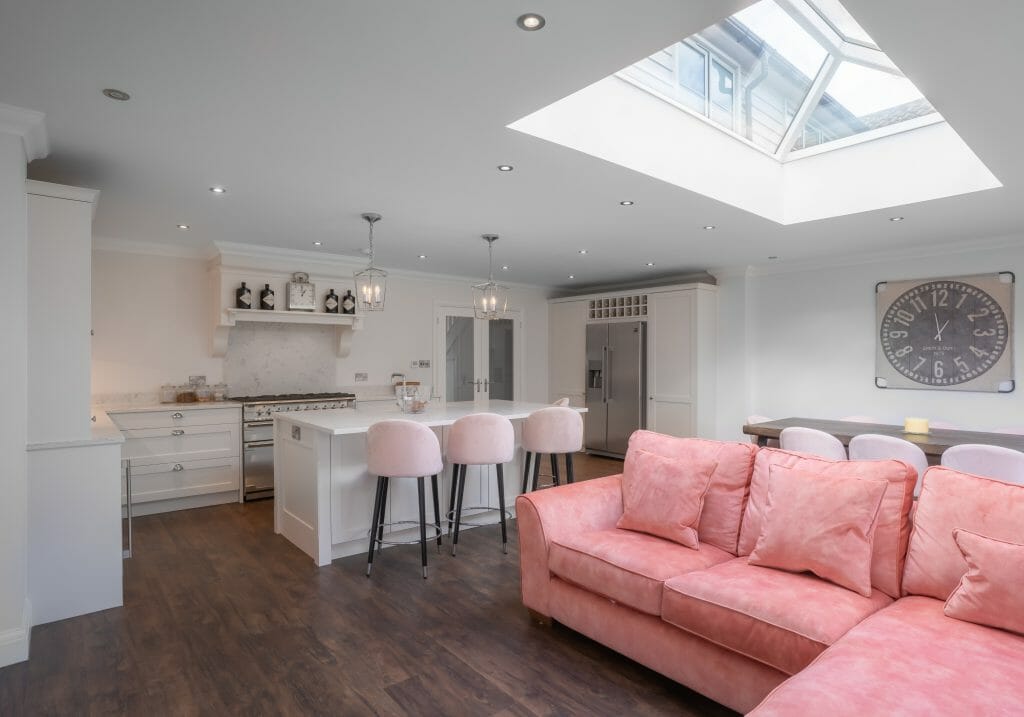 Pink Kitchen Cabinets
Want to make a serious style statement? Opt for light pink or deep fuchsia kitchen cabinets. This bold choice ensures your kitchen will never blend into the background.
To balance the vibrancy, pair pink cabinets with neutral countertops and backsplashes. Crisp white quartz or concrete-look kitchen surfaces work beautifully when paired with this dusky hue. Stainless steel hardware and fixtures will also pop against the pink.
Keep the window treatments, large appliances, and accent decor simple and streamlined. Draw the eye to the gorgeous, coloured cabinets by limiting ornate designs and competing colours elsewhere.
Pink cabinetry has a playful, whimsical effect especially when combined with a classic shaker or contemporary flat panel style door. The juxtaposition of traditional cabinetry with an unexpected colour creates a joyful, elegant look.
Blush and Brass Kitchen Aesthetic
For a glamorous vibe, take inspiration from the trending combination of blush pink, brass hardware, and marble. This opulent colour palette evokes French chateaus or luxury boutique hotels.
Painting the lower kitchen cabinets a soft pinkish nude shade keeps the look light and refined. Brass hardware stands out beautifully against the pink, lending a metallic sheen.
For the countertop and backsplash, dramatically veined marble or quartz slabs emulate luxury stonework. A few pink and cream patterned tiles can provide subtle contrast within the crisp white marble motif.
Vintage-style brass pendant lights, sconces, and plumbing fixtures continue the elegant ambience. The overall effect is romantic and playful, yet still refined.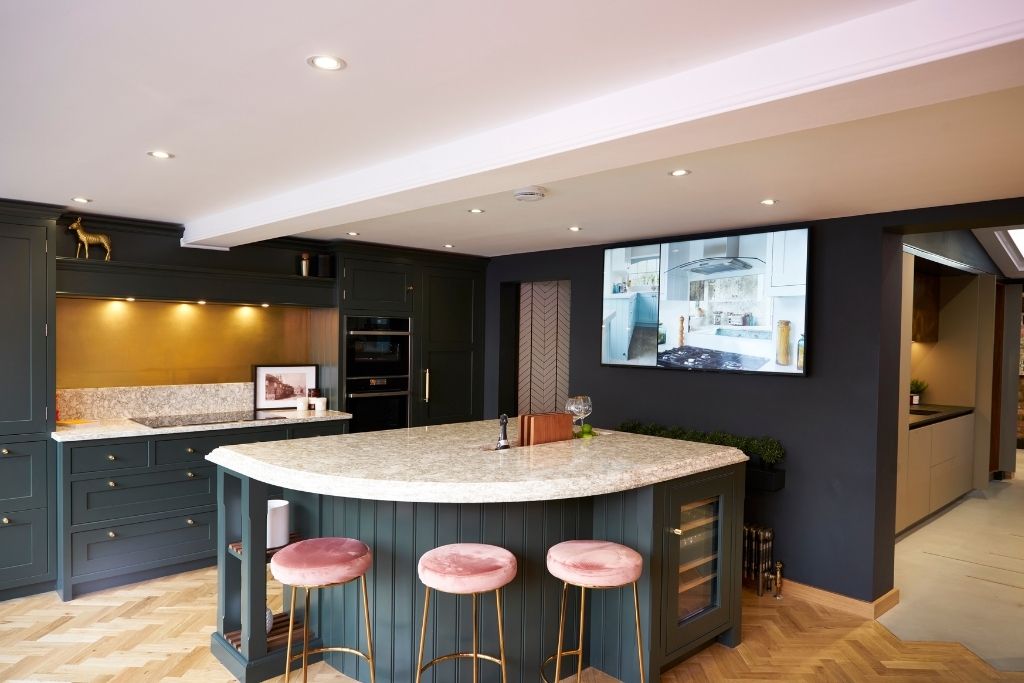 Pink Kitchen Island
Not ready for pink cabinetry throughout your entire kitchen? Consider painting just the kitchen island or a single base cabinet in a bold pink shade.
This approach allows you to enjoy a fun pop of colour without overwhelming the entire space. Focus the eye on the island by choosing a deeper fuchsia tone and coordinating with lighter pink accents.
Surround the coloured island with bright white cabinetry and shelving. For additional contrast, opt for black granite countertops and backsplashes. The mix of vivid pink, crisp white and sleek black makes for an eye-catching modern ensemble.
Pink Kitchen Backsplash
A backsplash is another strategic spot to infuse pink without overpowering the kitchen. Vibrant fuchsia, terra-cotta, or dusty rose glass, ceramic, or stone tiles can liven up a neutral design.
Keep the rest of the kitchen subdued in creams, greys, or wood tones. The pink backsplash will pop beautifully against the calm backdrop. For extra contrast, opt for dramatic mosaic tiles or Moroccan-inspired patterns.
Just this colourful, lavish element creates a focal point that defines the whole kitchen's character.
Pink Kitchen Accessories
For a low-commitment way to experiment with pink, start with accessories and decor items. These can easily be swapped out if you decide pink isn't for you.
Some charming pink accents to try without investing heavily include:
Coloured appliances like a pink kettle, toaster, or mini fridge
Pastel ceramic kitchen canisters for flour, sugar, coffee, etc.
Floral pink dinnerware, mugs, or utensil holders
Kitchen linens and textiles like window valances, rugs, and chair cushions
Artwork, vases, or decorative bowls in pink hues
Let your personality shine through with playful accent pieces reflecting your favourite pink palette.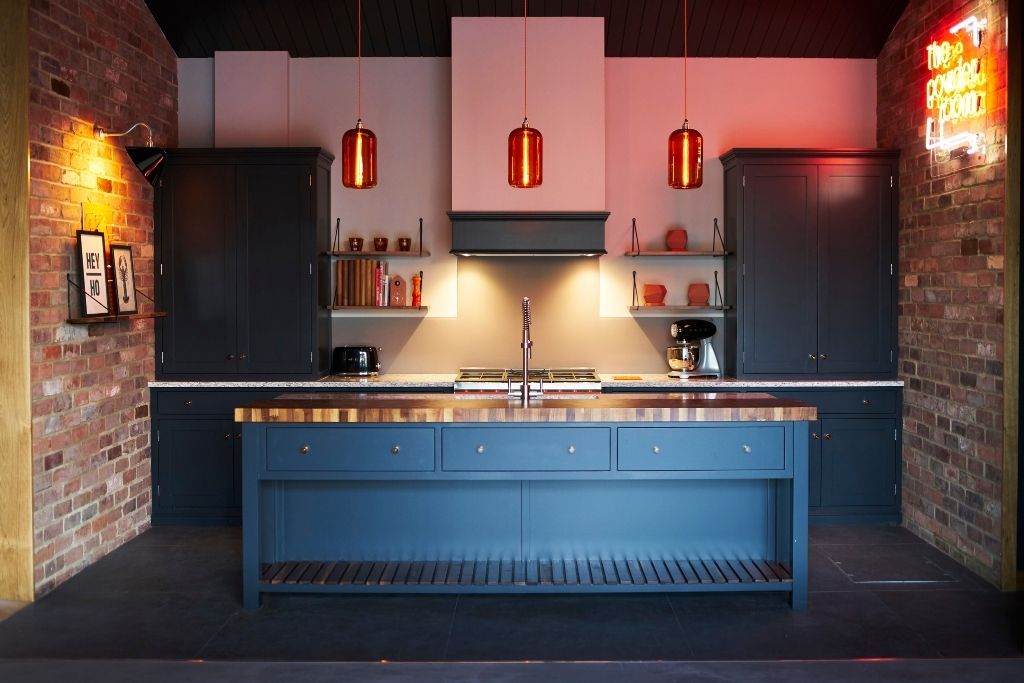 Bring Vibrant Pink Style to Your Kitchen
Pink unites imagination and sophistication for an enchanting, on-trend look. It doesn't have to involve a complete kitchen redesign and overhaul, as you can make subtle, incremental changes to see whether you like the adjustment.
The Brighton Kitchen Company specialises in bespoke luxury kitchens tailored to match each client's vision. Our expert kitchen design experts expertly blend colour, texture, lighting, storage, and layout to create your dream kitchen, whether traditional, shaker, contemporary, or minimalist.
Contact us today to explore how a pop of pink can invigorate your home's heart. Our specialists will help you determine the perfect pink accents to highlight your style.