A Guide On Bringing Colour To Your Kitchen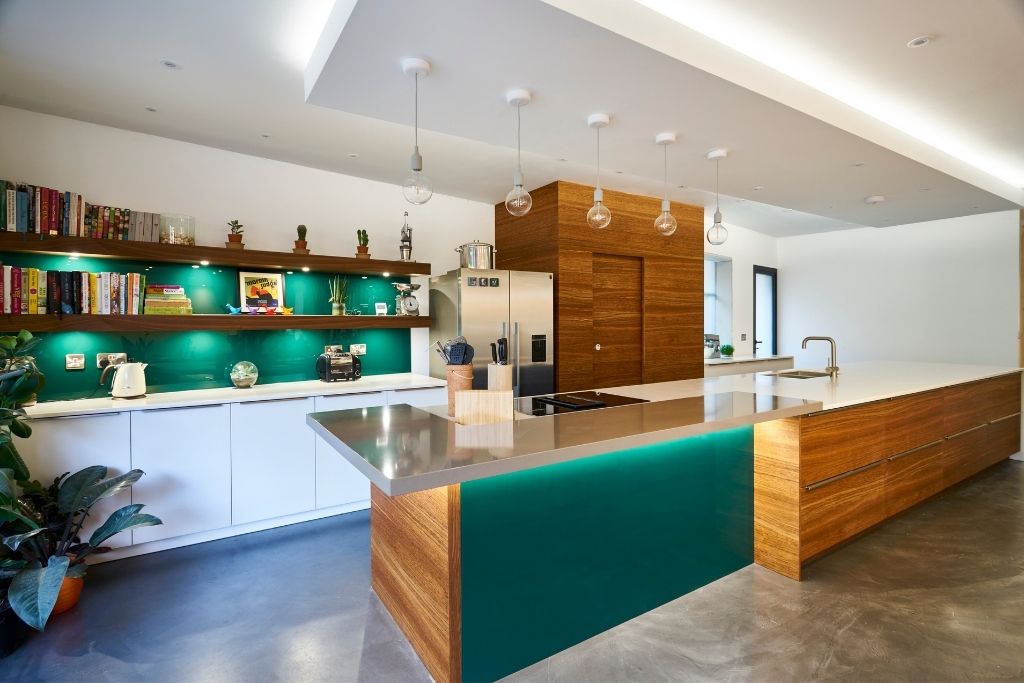 At TBKC Essex, we thrive on creating exceptional kitchens in Essex that elevate a space from the ordinary to the extraordinary, and one of the most important considerations when it comes to our transformative interiors is colour. The depth and complexity presented by different colour palettes provide an unrivalled opportunity to introduce your individual personality into your design. To help give you inspiration for your new project, we're guiding you through three innovative approaches we've recently taken to beautifully bring colour to our client's Essex homes.
A Timeless Contemporary Family Space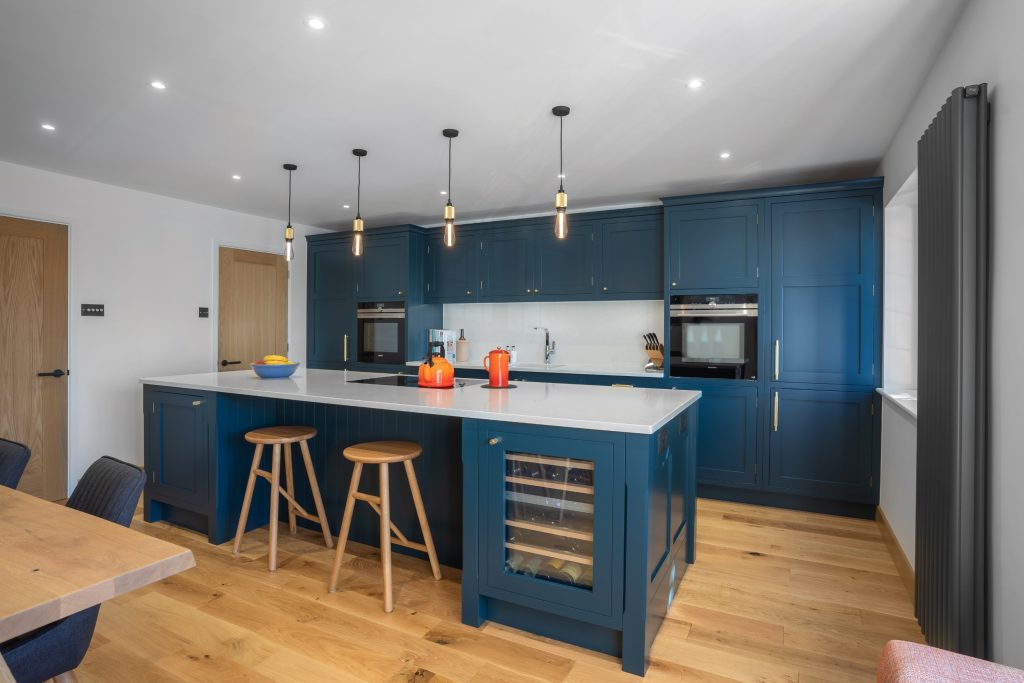 The kitchen is undeniably one of the most important rooms in your home, and for most of our clients, redesigning their kitchen isn't something they choose to do every day and so creating a space that perfectly fulfils their vision as well as standing the test of time is essential. The Essex clients to whom this kitchen belongs were keen to establish a timeless design that captured the bustling vitality and homely contentment of family life.
To reflect these down to earth values, we opted to keep the colour scheme simple yet sophisticated, with a single hue used across the kitchen furniture. The warm vibrant undertones of the Farrow and Ball Hague Blue inject energy and positivity into the space whilst providing a rich and understated enough base to maintain the timeless atmosphere our clients desired. Consistent use of natural oak finishes underpins the warming colour palette, contributing to the inviting family-orientated ambience.
Orange Le Creuset accessories provide a lively burst of contrasting colour which perfectly complements our client's energetic lifestyle. Despite the traditional in-frame kitchen style, contemporary brass handles from Buster + Punch and on-trend pendant lights bring the era of the kitchen right into the modern-day with luxurious flair. You can find out more about this fantastic Essex family kitchen by clicking here.
When bringing colour to your kitchen, keeping it simple with a vibrant yet timeless hue will create a wonderful cosy feel to your space. The finishing touches are the ideal place to further develop your own sense of style.
An Eclectic Urban Paradise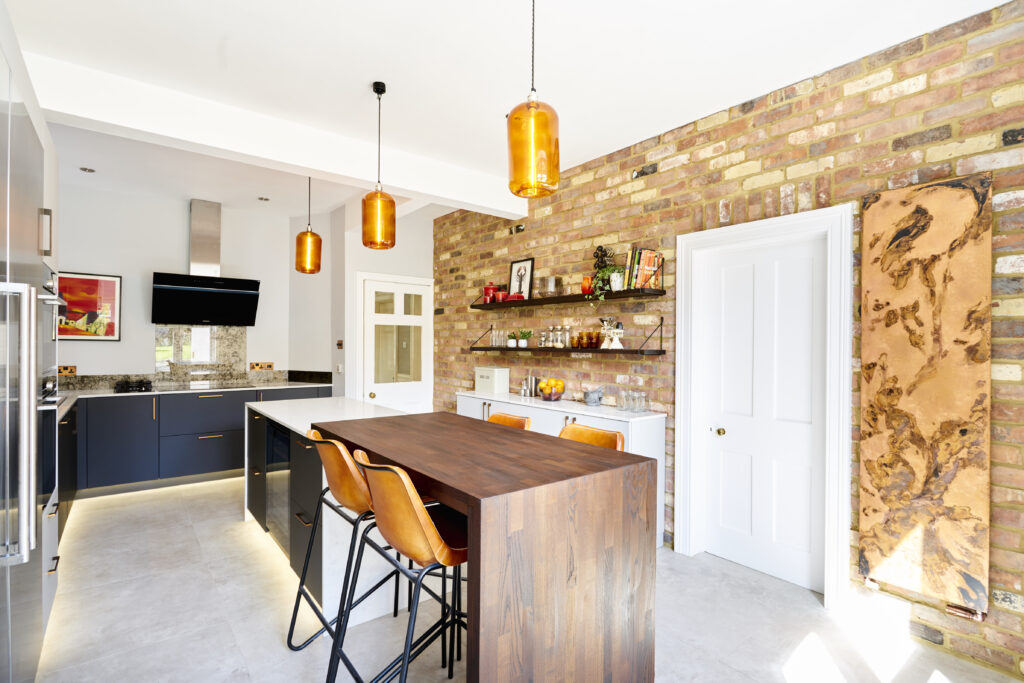 In this Brentwood client's kitchen, colour works in harmony with texture to bring depth, vibrancy and balance to the space. The dark graphite flat panel cabinets play a crucial role in grounding the design while bright matt white doors seamlessly meet the clean white walls. The two work together to establish a spacious and airy feel that provides a perfect canvas for an eclectic textural colour scheme.
The complex use of colour in this modern industrial kitchen is facilitated by the process of layering. Layering different materials and tones gives the impression that the interior has naturally evolved and developed over time. This lived-in effortless appearance is ideal for this style of sophisticated urban design.
The anchor point behind this approach is the sizeable, exposed brick feature wall. Subtle orange and tan undertones contrast against the dark grey cabinetry to introduce a dynamic energy to the space. A copper wall panel, glowing tangerine pendant lights, leather bar stools and copper door handles all emanate the warm tones captured by the exposed brick wall. Each element brings a unique textural detail and its own subtly distinct hue, contributing to the striking eclectic ambience. Colour is undeniably at the heart of this breathtakingly stylish interior; however, its use is wonderfully intricate and understated.
A Sensational Statement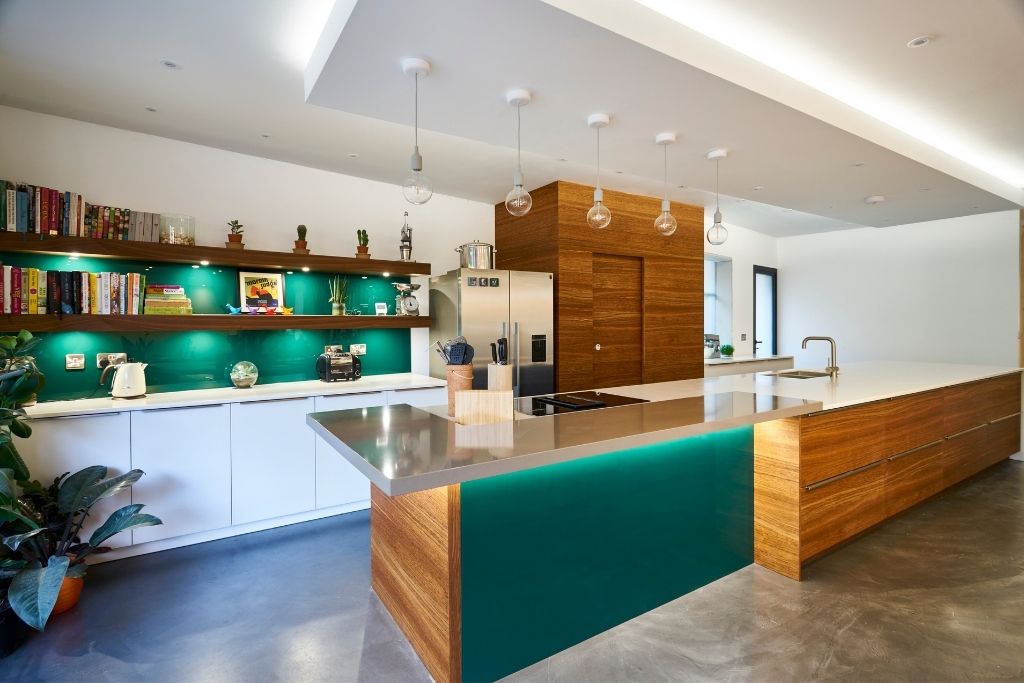 The use of colour in this spectacular Essex kitchen is certainly not subtle, however in such a grand and spacious interior, it becomes hugely important to introduce characterful individual features that create a real wow factor. A ravishing turquoise makes a bold statement in this contemporary open-plan Essex kitchen. However, what at first appears daring and audacious, is in fact highly considered and well-thought-out.
At this end of the kitchen, expansive glass doors look out across a beautiful verdant tiered garden. The turquoise hue parallels and intensifies this natural palette to create harmony with the outdoor space. Also situated at this end of the room is the family dining area and breakfast bar. Injecting a vibrant colour into this part of the kitchen distinguishes its function as a social area for dining and relaxing. The stylish row of pendant lights and charming open shelving further emphasise and differentiate the identity of this part of the kitchen, helping to zone the expansive open space and tie the large island into the design. You can find more inspiration on kitchen islands by clicking here.   
The gorgeous gloss finish on the turquoise island and splashback really makes the most of this powerful colour by beautifully reflecting the glowing light from beneath the shelves and stainless-steel bar. From the clever positioning to the exquisite gloss finish, the measured use of this extraordinary colour truly brings this kitchen alive. You can explore this stunning Essex kitchen in more detail by clicking here.
If you'd like to know more about bringing colour to your kitchen or you have an upcoming project that you'd like to discuss, please don't hesitate to get in touch with our award-winning kitchen design team. Although our showroom is currently closed, we're still designing, you can call us on 01277 554 595 or email us at [email protected].