Bringing The Outdoors In – How To Enhance The Relationship Between Your Kitchen And Garden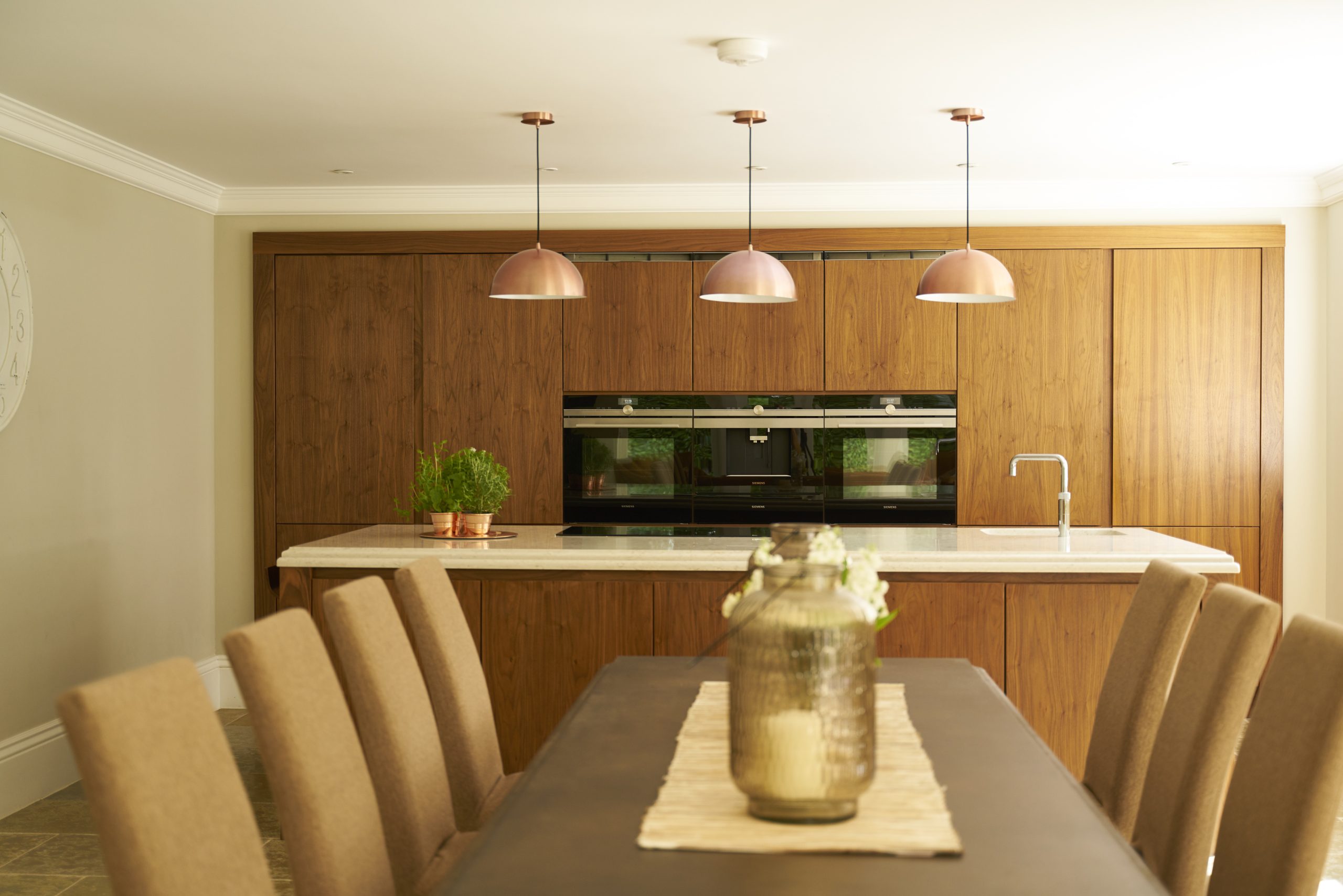 In most homes, the kitchen is situated towards the back of the property, bordering the garden. And whether you enjoy alfresco entertaining or you simply love nature and the outdoors, considering the relationship between your kitchen and garden can provide a wonderful opportunity to elevate your design, taking your space to the next level.
Over the past year, nature and outdoor spaces have proved to be incredibly important to people's wellbeing and embracing these benefits by translating them into the way we design and use our kitchens could have a fantastic positive impact on our homes. Bringing the outdoors into your kitchen can be as bold or as subtle as you like. We've put together a range of inspiring ideas to help you transform your unique space.
A Kitchen With A View
One of the most important factors in terms of embracing the outdoors in your kitchen is lighting. Bringing plenty of natural light into your space will transform the atmosphere of your room, creating a beautifully bright and vibrant feel. Bi-fold or sliding doors or even French windows make a great solution to increasing the natural light entering your space, with the latter offering the potential to create a seamless transition into your garden. Capturing considerably more light than standard windows, skylights can also help to flood your space with natural light.
Introducing additional doors and windows to your kitchen design will impact how you plan your layout as you will want to capitalise on the beautiful views and natural light. In the stunning Chelmsford kitchen below, the dining table is situated adjacent to the crittall style doors, ensuring that no one has their back to the view. Orientating the table in this way accentuates the connection with outdoor space rather than blocking it. Locating the hob on the kitchen island also gives our client a beautiful view to enjoy while cooking.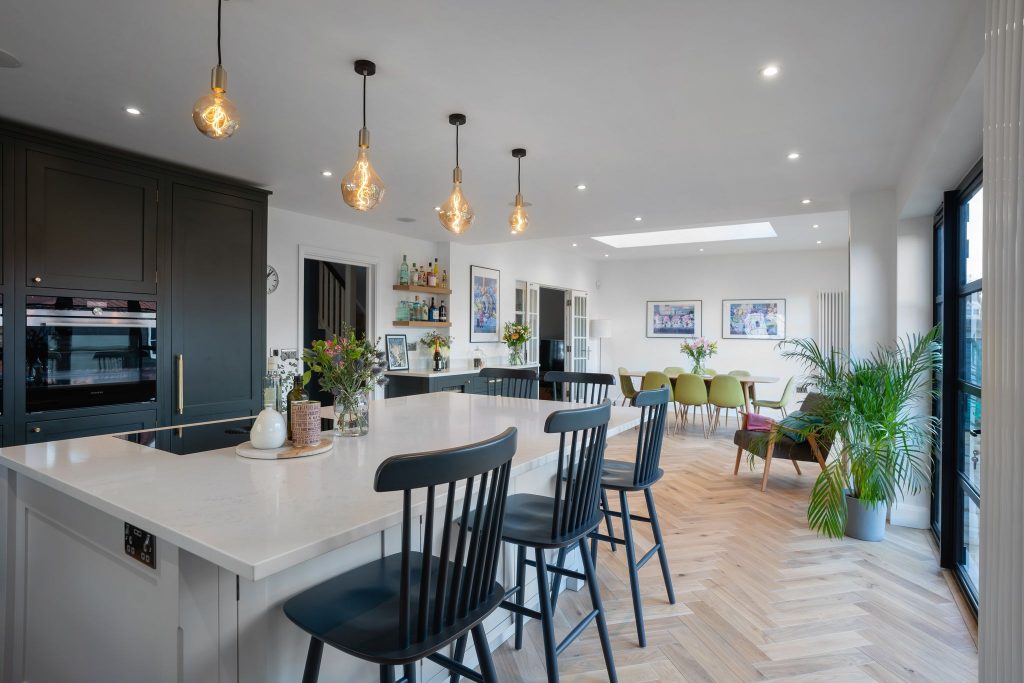 Nature Your Way
Establishing a kitchen that embraces the outdoors doesn't mean you have to dial back on injecting your own sense of character and personality into your space. Featuring a breath-taking fully glazed gabled extension, the contemporary kitchen below is brimming with natural light. Bright white walls reflect the light through the room, accentuating the fresh and airy atmosphere. A zingy tangerine orange provides a energetic pop of colour that's undeniably evocative of a sunny summer's day.
The attention to detail behind this kitchen truly sets it apart. If you look closely, an intricate zigzag pattern in the end-grain of the beech breakfast bar creates a gorgeous texture. This natural motif is similarly referenced in the decorative wall tiling. These subtle textural elements pay homage to the kitchen's natural surroundings without dominating the overall design.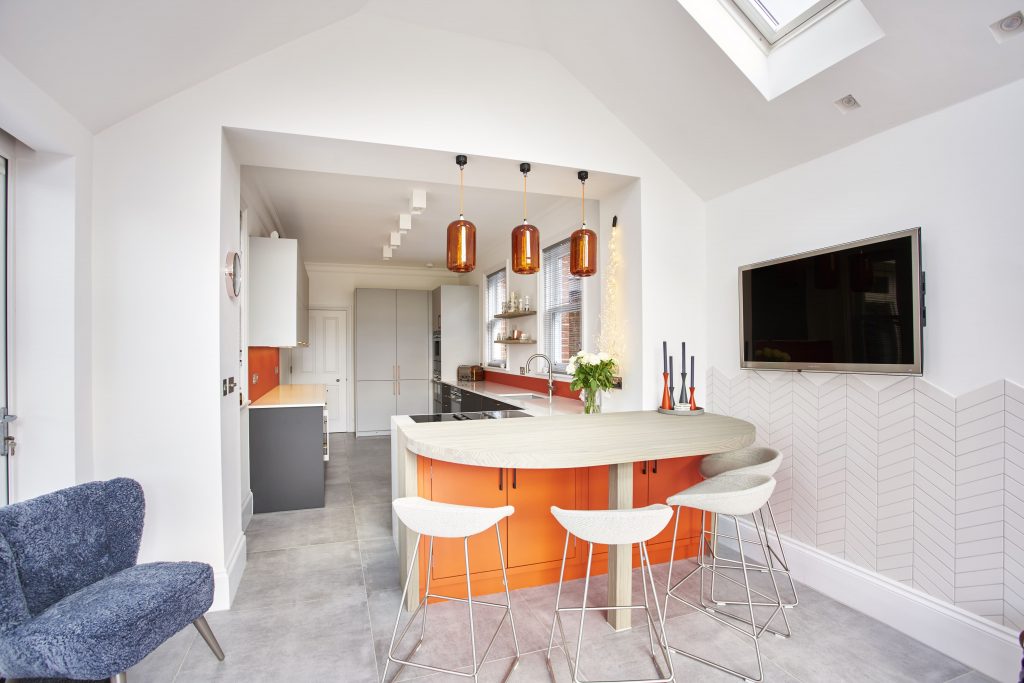 Elegant & In-Keeping
Colour plays a crucial role in capturing your individual style as well as setting the tone of the room. In the elegant country-inspired kitchen below, a warm forest green creates a classic harmony between indoor and outdoor spaces. A calm and sophisticated hue with natural undertones such as a deep green or blue is perfect for establishing a sense of cohesion with your garden.
Another feature to consider when looking to enhance the connection between your kitchen and garden is flooring. Opting for a textured natural surface such as stone or concrete that appears visually congruent with your outdoor space will blur the boundary between the two areas. For a completely seamless transition, consider utilising the same flooring material both inside and out. Ensuring both areas are on the same level is essential. Simple raised decking makes an ideal solution.
One of the most simple yet effective ways to bring nature into your kitchen is to introduce houseplants to your design. Placing pots by the window will cleverly merge the two spaces. Their green and verdant foliage will add a bright and healthy touch to your interior. The potential of the modest houseplant shouldn't be overlooked.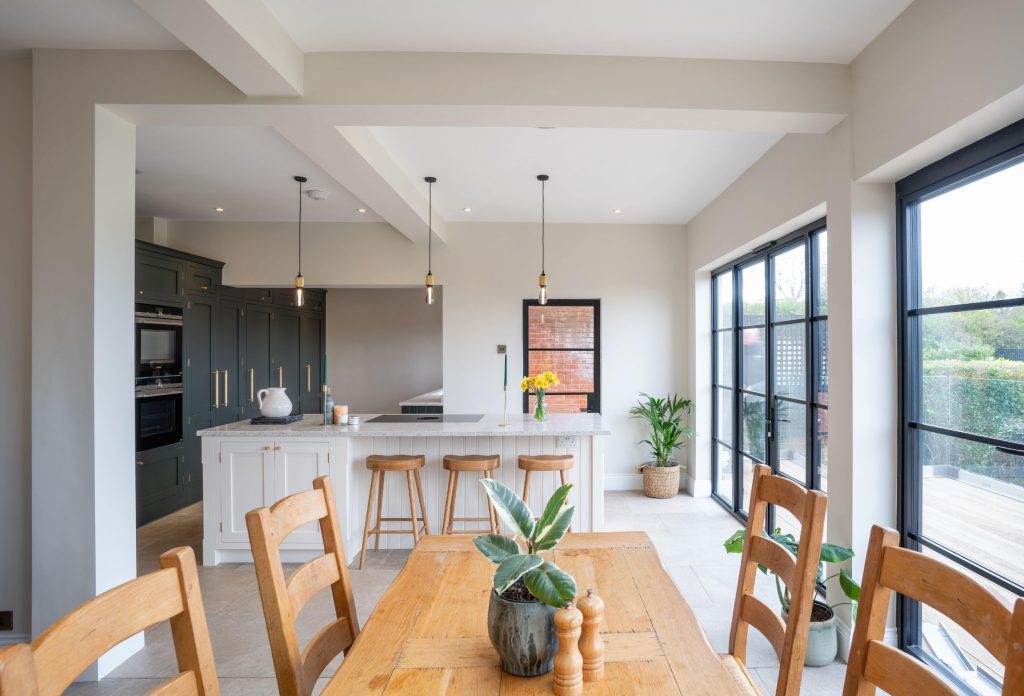 A Woodland Vision
In some circumstances, making dramatic structural changes to your property may not be feasible, and this means taking a different approach to bringing the outdoors in. In the listed cottage below, rather than using a crisp white to create a sense of brightness, we've chosen to work with the features of the space, using warm natural tones to establish a tranquil and intimate atmosphere.
With sweeping walnut cabinetry, textured stone floors and a serene colour scheme, this breath-taking kitchen beautifully references the peaceful woodland that surrounds it. A beam of light illuminates the island like sunlight breaking through the forest canopy, while a large areca palm adds a perfect touch of greenery. Placing natural colours and materials at the heart of your design offers another stunning opportunity to create harmony between your indoor and outdoor living spaces.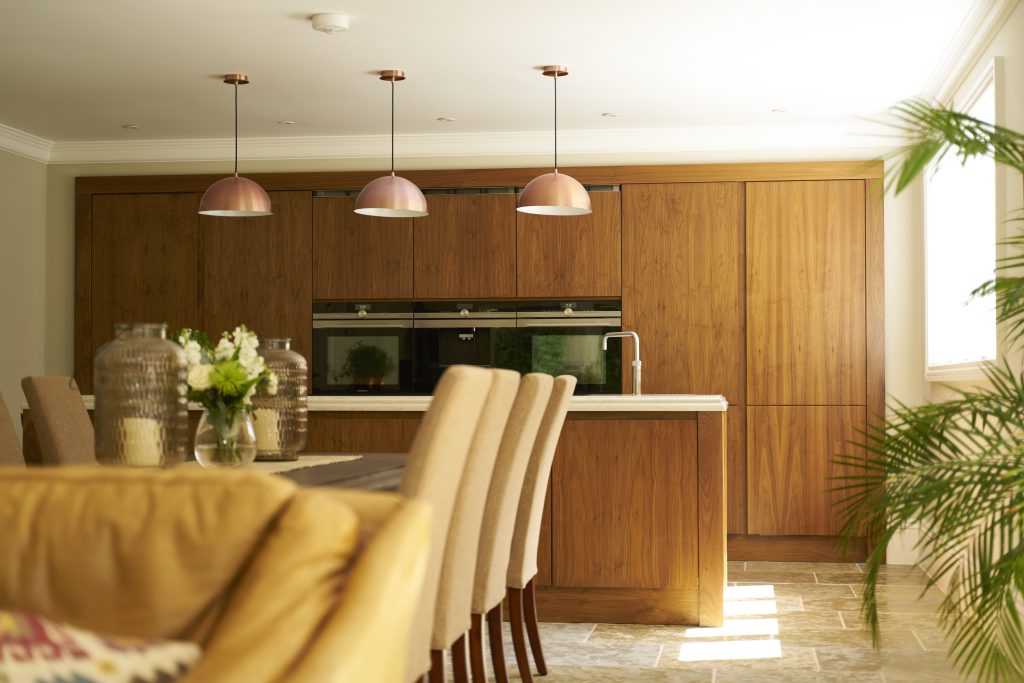 We've explored several versatile approaches to enhancing the relationship between your kitchen and outdoor space, all of which enable you to bring your own personal sense of style and taste to your design. However subtly or dramatically you choose to embrace nature, taking inspiration from the landscape is a fantastic way to enrich your interior. If you'd like to find out more about our bespoke Essex kitchen projects, please contact our team by calling 01277 554 595 or emailing [email protected].