Creating Your Perfect Kitchen Island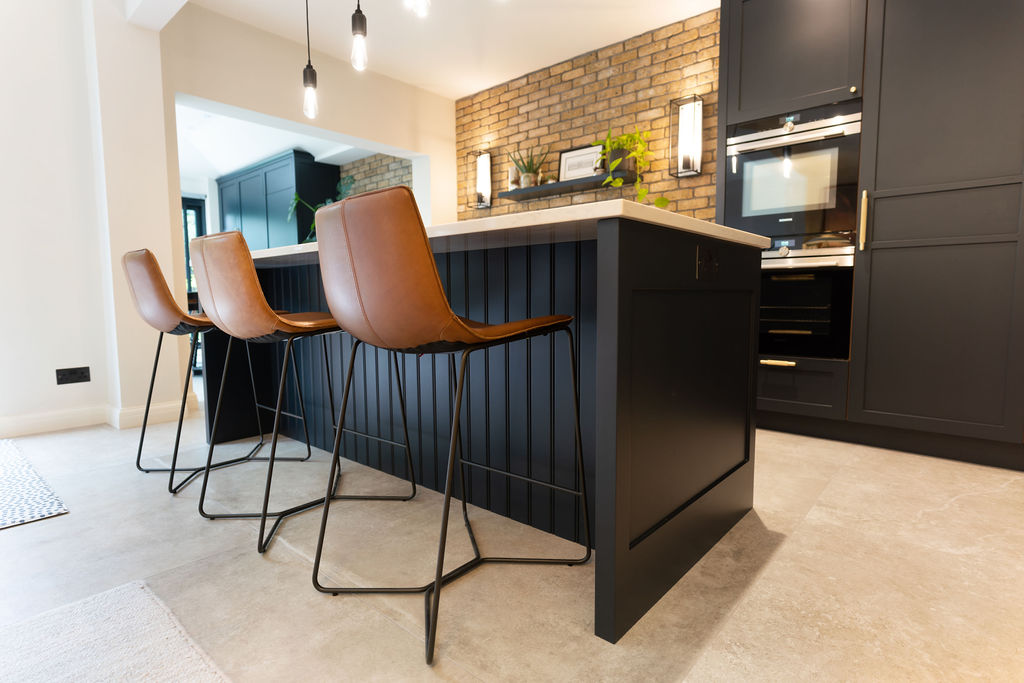 These days, it's unusual to browse an interior design magazine or website and find a kitchen without an island. Their luxury status paired with their stylish looks and impressive practical capabilities makes them a real kitchen must-have, and, here at The Brighton Kitchen Company, many of our clients come to us looking to include a beautiful island in their design.
One of the reasons kitchen islands are such a great asset to the home is their remarkable versatility. From introducing seating to adding appliances, there are a variety of ways to personalise your island to enhance your space and elevate your lifestyle. While you'll undoubtedly be familiar with the concept of the island, you might not have considered all the fantastic options at your disposal. To help you find inspiration and discover your perfect kitchen island, we've put together a collection of some of our favourite recent Brighton kitchen projects featuring extraordinary islands.
A Place For Guests To Gather
There's nothing more awkward than hovering around your host's kitchen, drink in hand, not quite knowing where to put yourself before inevitably ending up in the way. A kitchen island is ideal for guests as well as hosts as it creates a focal point around which friends and family can gather, keeping visitors out of your path while making them feel welcome and relaxed.
Informal bar stool seating offers a comfortable place for guests to perch, allowing your party to happily while away an evening, especially when kept topped up with perfectly chilled drinks from a nearby wine cooler. Seating also presents a wonderful opportunity to add another dimension to your design and enhance the style of your interior. Choosing a bold contrasting colour, a plush material, or in this case, a sophisticated yet contemporary print will bring the perfect finishing touch to your space.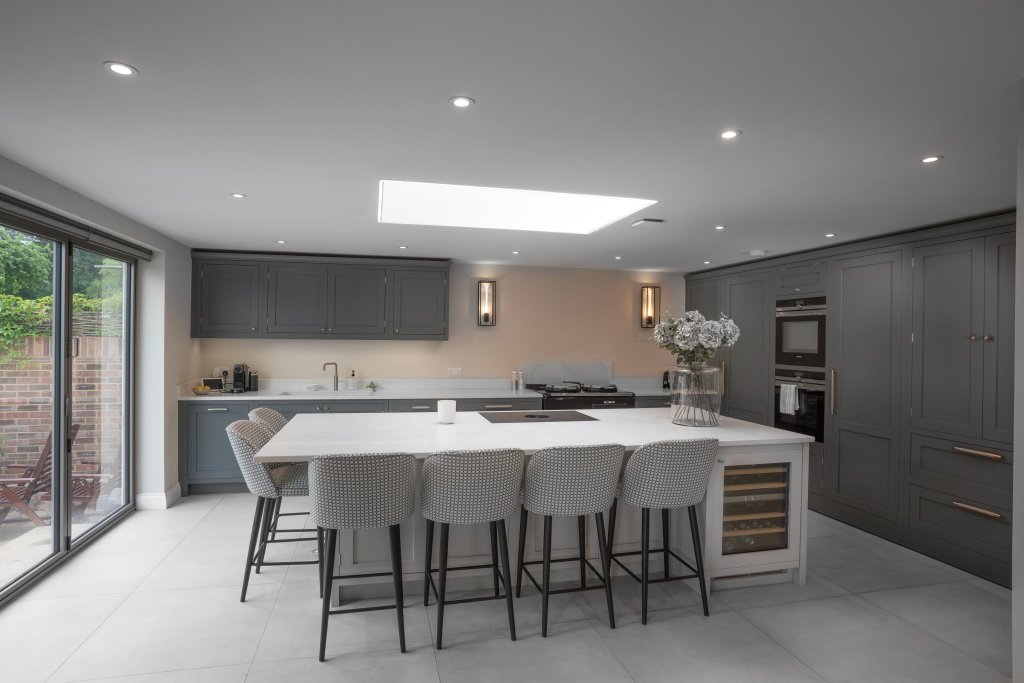 Somewhere To Embrace Cooking
Introducing additional storage, offering ample worktop space, and enhancing your layout; kitchen islands can undoubtedly transform the functionality of your kitchen when it comes to cooking and preparing food. Achieving the sought-after work triangle can be tricky, however, including a hob on your island presents an excellent solution. Whether your island provides your only work surface or is accompanied by traditional countertops, islands are ideal for establishing multiple cooking zones, perfect for when there's more than one chef in the kitchen.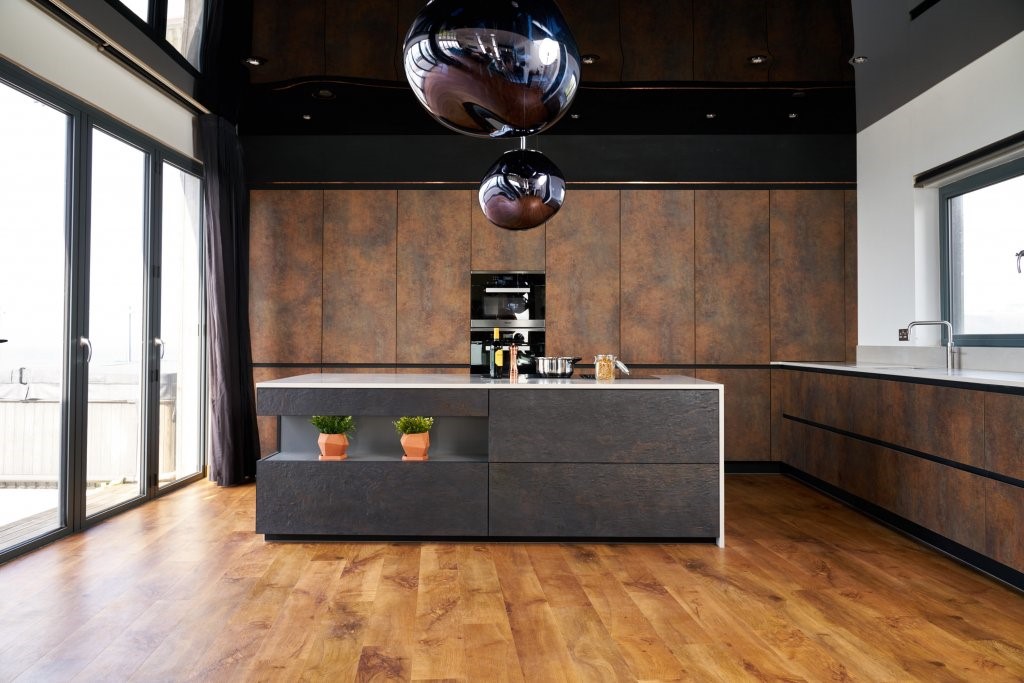 An Island For Entertaining
If you love hosting and entertaining, then you'll no doubt want to consider designing your island with this in mind. In the stunning kitchen below, a trio of luxurious bar stools are perfectly positioned opposite an impressive Bora Professional induction and teppanyaki hob, ready for our client to wow their guests with their cooking. Integrating the hob into the island allows the host to socialise and chat with guests while they cook, and the best thing about the Bora venting cooktop is that its quiet, built-in extraction won't interrupt your conversation or your concentration.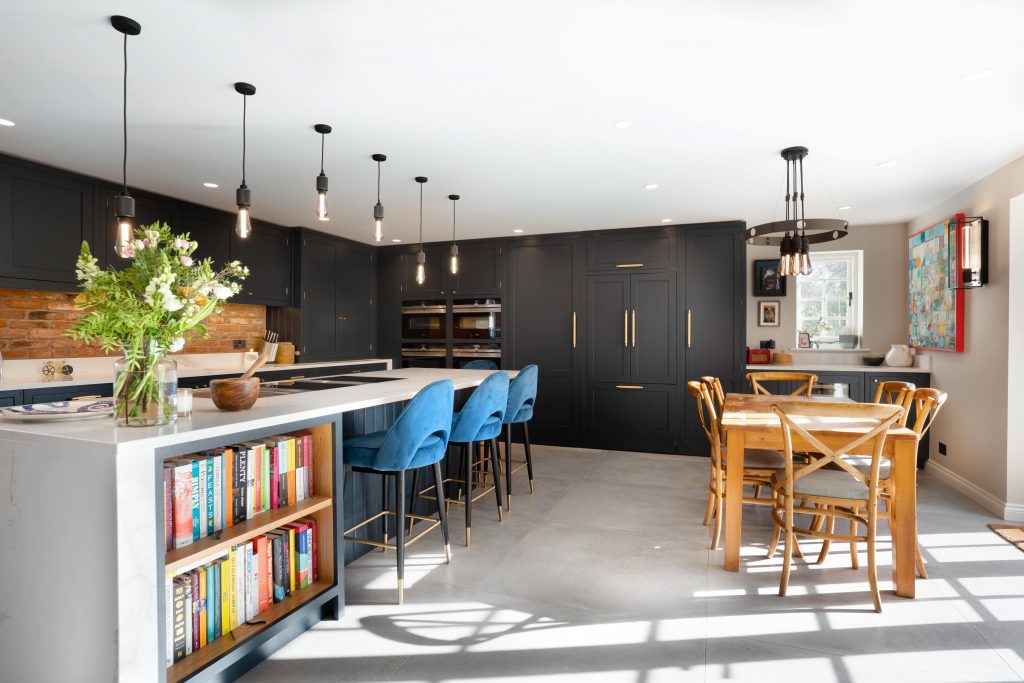 An Island For Dining
Breakfast bars are fantastic for laidback lunches and evening drinks and nibbles, however, if you're planning a sit-down family meal, you might prefer a slightly more traditional arrangement. A dining island is ideal for maximising space, allowing you to introduce a cohesive and generously sized tabletop around which to accommodate a more conventional layout of seats. As well as making a striking feature, the differentiation between surface materials helps zone the island, keeping the dining area clean and free of cooking debris. A dining island can make an eye-catching and practical solution to creating a kitchen diner in a compact space.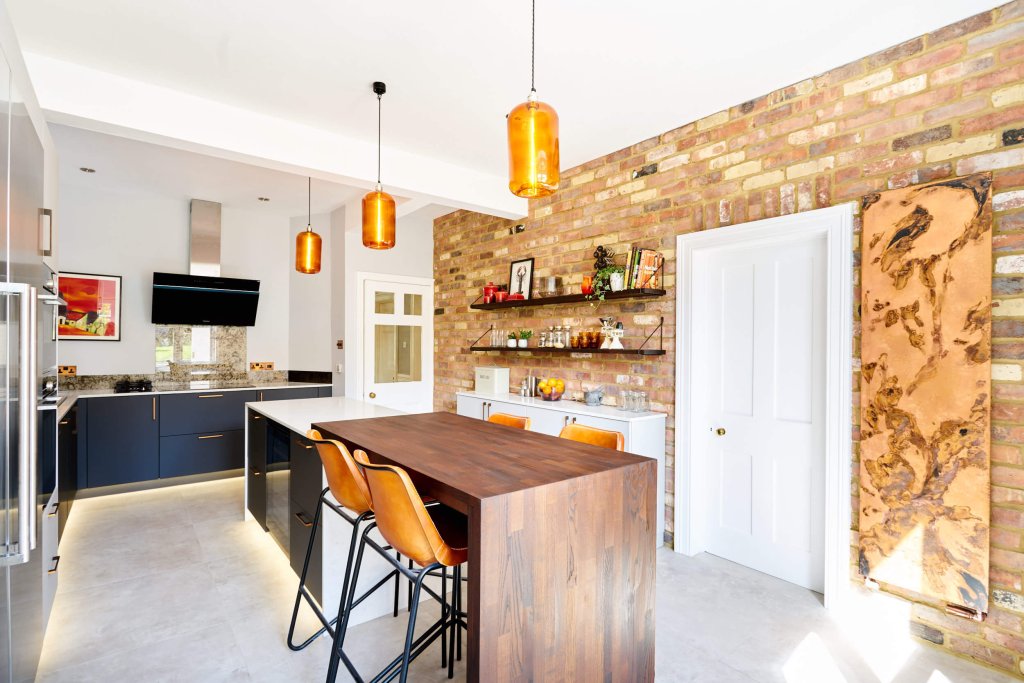 A Peninsular Perfect For Two
If you haven't got room for a conventional kitchen island, a peninsular could be the perfect compromise. Continuing from a run of base units, peninsulas can seamlessly help you achieve a highly practical u-shaped kitchen layout. Just like a kitchen island, a peninsular offers fantastic extra storage and additional worktop space while creating a stylish focal point to your design. A peninsular also provides an equally wonderful opportunity to create a cosy spot for enjoying a light lunch or a cup of coffee. The chic wood breakfast bar and stylish velvet bar stools adjoining the peninsular below beautifully complete this contemporary Brighton interior.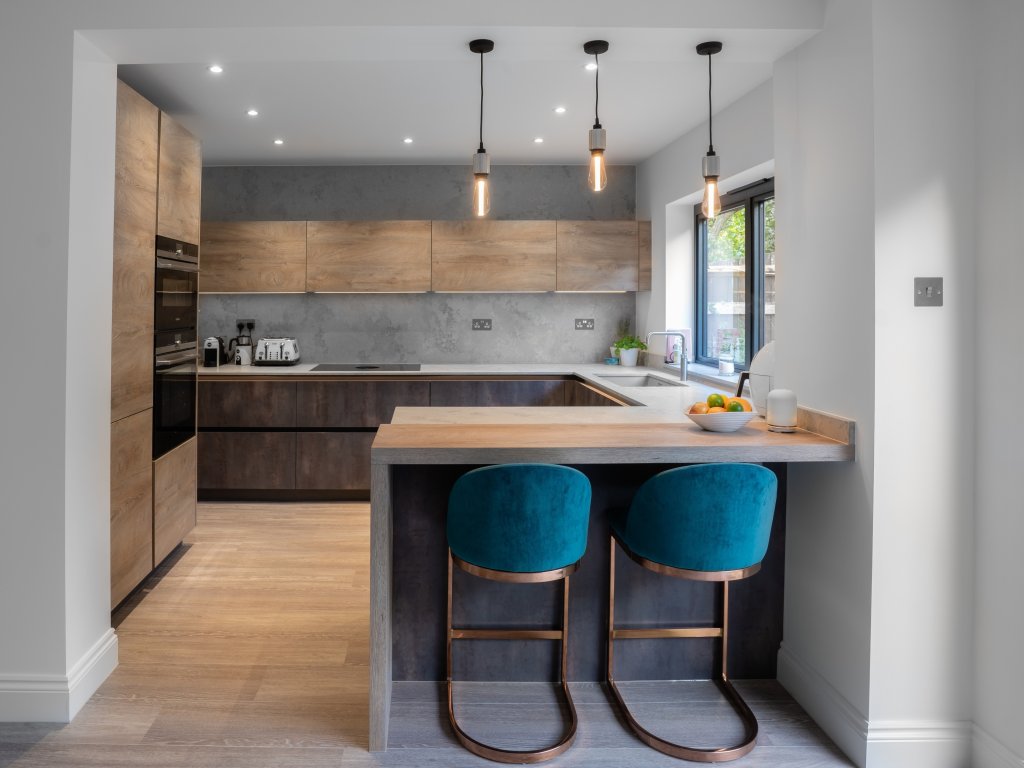 Grab A Coffee While Keeping An Eye On The Kids
In an open-plan kitchen living area, a kitchen island can cleverly connect two spaces, establishing a sense of cohesion while creating a boundary between practical and social zones. Decorative elements such as elegant bar stools and quirky pendant lights differentiate the island from the rest of the kitchen, integrating it within the relaxed open-plan scheme. In the gorgeous family home below, the island helps shield the play area from the busy kitchen while allowing our client to keep an eye on the kids while the grown-ups cook or enjoy a coffee with friends.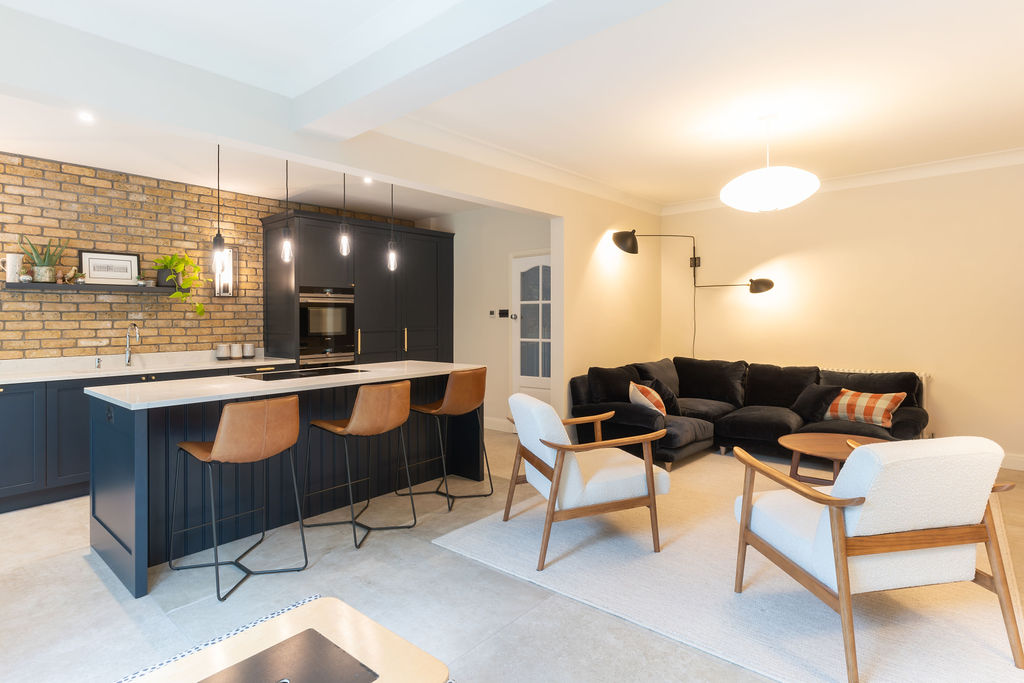 Whether you love hosting fabulous celebrations or prefer keeping your culinary skills behind the scenes, there are endless possibilities to create a beautiful and practical bespoke kitchen island that works for you and your home. If you'd like more advice on including a kitchen island in your design, please don't hesitate to get in touch with our knowledgeable award-winning team of designers. You can give us a call on 01444 647640 or drop us an email at [email protected].