Glow For It! Mastering the Art of Neon Lighting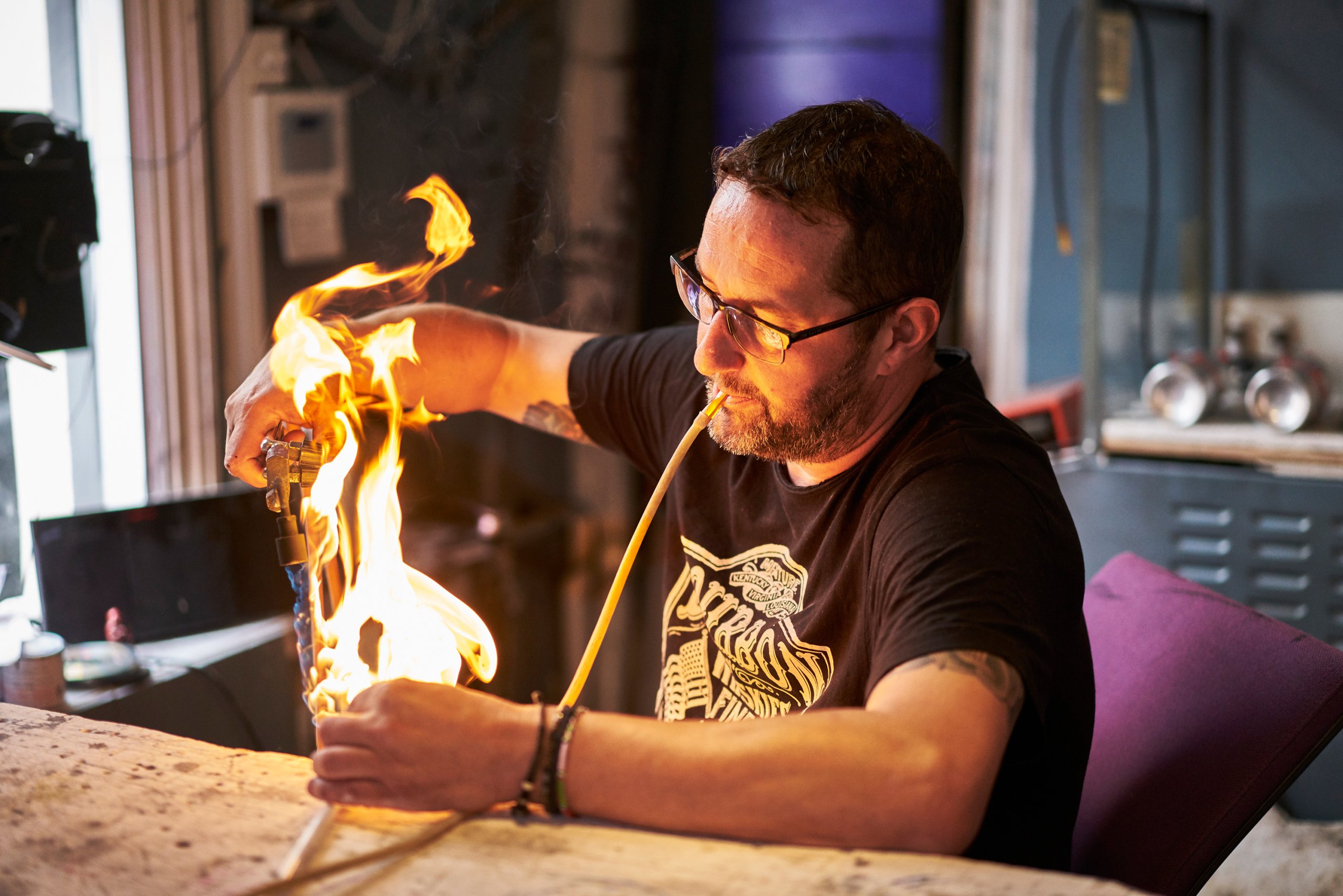 Neon signage has come a long way since it was first displayed in 1910 at the Paris Motor Show. It has seen a rise and fall in popularity and in more recent years there has been a big resurgence in the use of neon lighting in art and commercial spaces, which has now filtered down into residential interiors.
The Brighton Kitchen Company are currently in the process of installing a brand new kitchen showroom in Hickstead, Sussex. We can't wait to install the neon artwork produced by local, skilled master craftsman, Darren West. Darren is one of a select few neon artists around today who is a skilled in the art of glassblowing.
Darren is both an artist and designer and is truly skilled in what he describes as a 'dying trade.' The techniques he uses involve making, bending and shaping glass tubing to create unique designs from scratch.
We chat to Darren to discover what it takes to create a dazzling display.
When did you decide to embark on a career in glassblowing?
I have always had a love of art since a young age but at 16 years old, I was working with an artist that had a small neon studio. I was fascinated by the 100-year old glassblowing technique, so I decided there and then that I wanted to start my journey in creating neon artwork. I began a five-year apprenticeship the very next day and never looked back.
What inspires you?
Music is another passion of mine and this often inspires my work. My first ever piece was titled, 'The Jam and Weller' and I have since used iconic images of Amy Winehouse, Marilyn Monroe, Debbie Harry and David Bowie.
How does your work stand out from the crowd?
As well as working with canvas and screen prints, I often use a variety of props and structures in which to create my neon art around. I work with a wide range of mediums – including placing neon wings on a Hell's Angel leather jacket!
Have you had any celebrity customers?
I have caught the attention of a few celebrities during my career. Eva Longoria, Nick Mason (Pink Floyd) and Dragon's Dens' Sarah Willingham have all commissioned me to create one-off pieces. I have also created commercial designs for the BBC, Bacardi and Jagermeister and my work has been featured in Vogue, Daily Mail, ID and Design Magazine.
Darren's work will soon be available to view alongside our beautiful kitchen displays in our brand new showroom in Hickstead, Sussex. Come and visit us soon at The Brighton Kitchen Company to see Darren's work first hand.