How To Future Proof Your Kitchen In 2022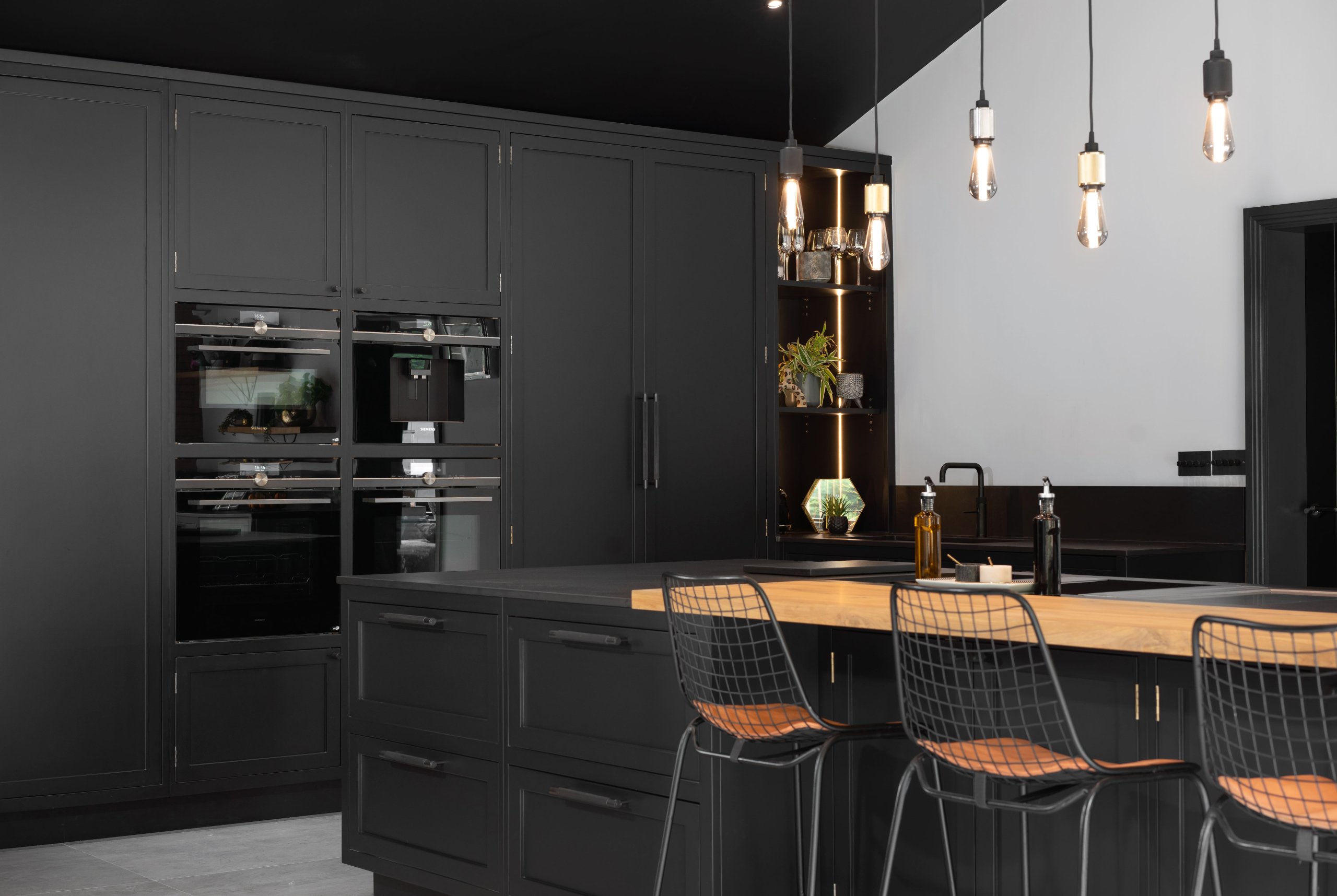 In order to stay at the top of their game, designers up and down the country will be looking back on the interior trends that have come to the forefront over the last year, predicting what features will dominate the industry in 2022. Here at TBKC Essex, we're undeniably passionate about exquisite interiors and love nothing more than unearthing new and inspiring concepts to bring to our work. However, with concerns over sustainability on the rise, it feels like there's never been a more crucial time to future proof your home and invest in a kitchen that's going to last.
While the latest trends can offer a great source of inspiration, it's vital that your kitchen captures your individual personality and enhances your lifestyle. At TBKC Essex, we pride ourselves on our 'think different' approach and strive to create extraordinary, unique interiors that embrace the uncommon while complementing your needs. To help you create a breath-taking bespoke kitchen that's as perfect 15 years down the line as it is now, we've put together some handy tips.
Think Carefully About Your Requirements
Before making any decisions about layout, colour schemes or appliances etc, we recommend thinking carefully about what you hope to achieve and how you envisage your new space integrating with your home and lifestyle.
Kitchens make a great focal point when sharing your home with friends and family, and thus casual seating can be a handy addition. However, if you prefer to keep out of the limelight when cooking and hosting, a separate dining area might be the better choice. Open-plan living is certainly growing in popularity, but with kids playing, the dishwasher going and cooking smells permeating the air, you might want to consider whether this arrangement suits your lifestyle.
In order to truly future proof your kitchen, you will need to give some thought to how you might need to use the space a few years down the line, as well as considering your current circumstances. For example, if your family grows, you may need more storage, a play area or even a bigger dining table!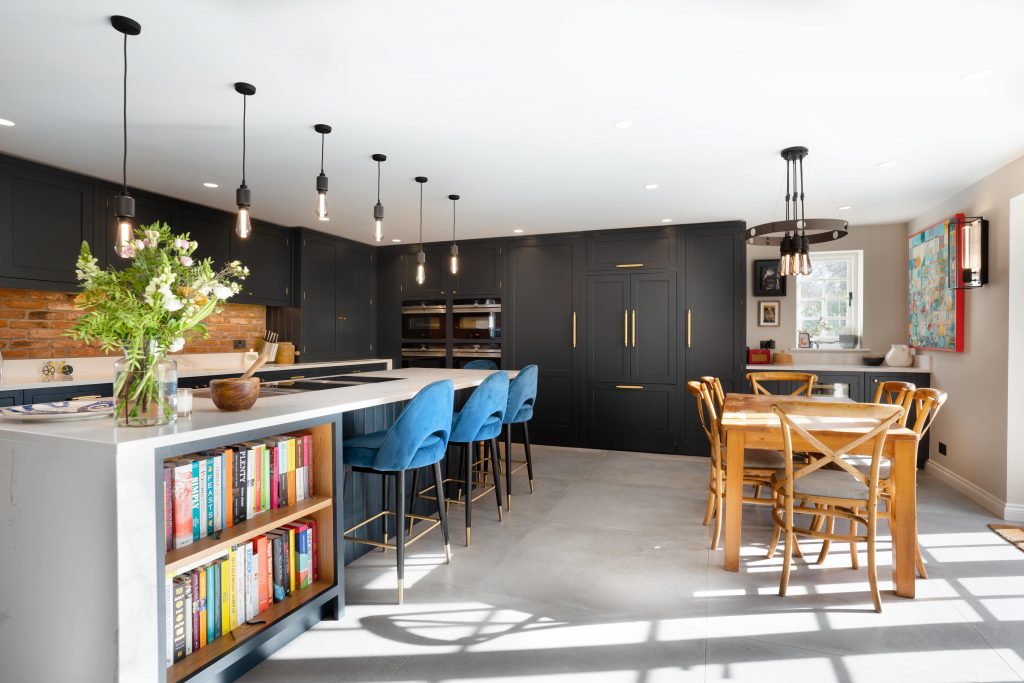 Don't Compromise On Practicality
It can be tempting to get carried away when imagining all the beautiful potential colour schemes, surface finishes and stunning design details awaiting your space. However, when it comes to designing a long-lasting kitchen, there's nothing more important than making sure your interior is practical to use and easy to maintain. Don't be tempted to squeeze an island where it doesn't belong or sacrifice your storage space; an exceptional kitchen design should bring style and functionality together in perfect harmony.
It's amazing how quickly your kitchen can become cluttered and inefficient if you don't achieve a successful layout or adequate storage. And, as order gradually gives way to chaos, it won't be long until you find yourself looking longingly at your old kitchen brochures. To devise a fantastic layout with plenty of storage, you will need to return to our previous point and consider your individual requirements. Ideally, you should create zones for different activities; this can help streamline your cooking, prevent guests from getting under your feet and accommodate all the family's needs.
Establishing a practical kitchen design doesn't just affect how you use your kitchen. When clutter builds up, cleaning and properly maintaining your kitchen can fall by the wayside. Taking proper care of your kitchen is essential to the longevity of your space.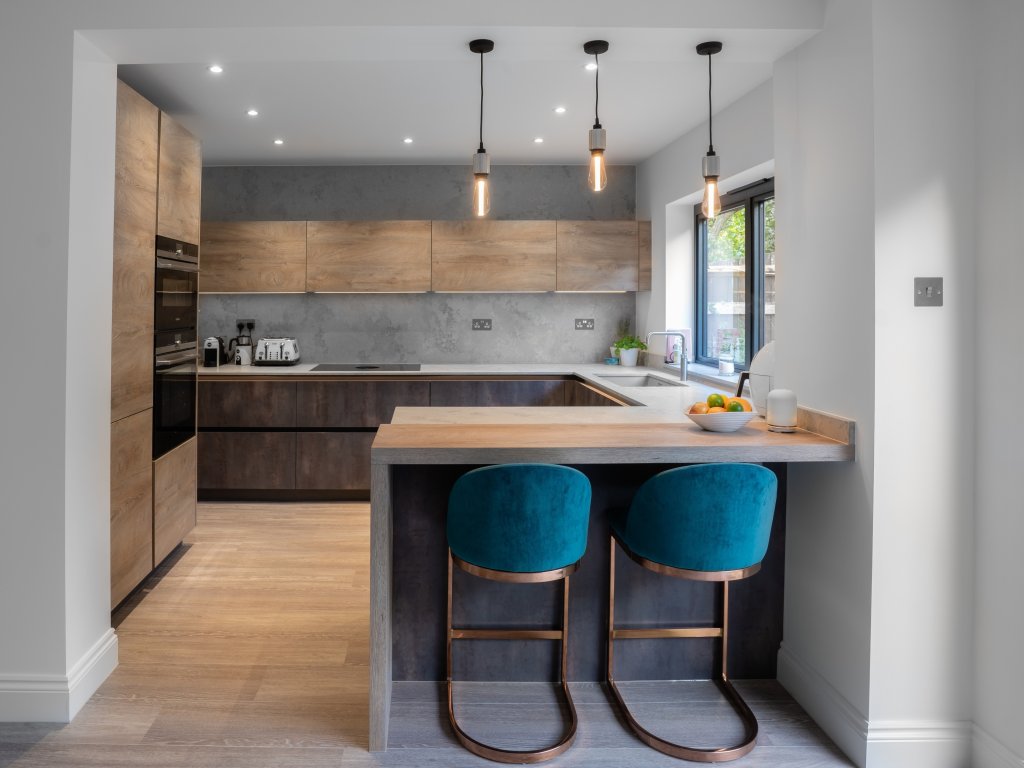 Utilise Your Budget Wisely
Regardless of the scale of your project, you will more than likely find you need to prioritise certain aspects of your design. And how you do this will undoubtedly play a role in future-proofing your kitchen. While making significant structural changes to your home can be costly and time-consuming, knocking a wall through or building an extension is a fantastic way to transform your space and elevate your lifestyle. You will need to weigh up if this is worth budgeting for.
The quality of your kitchen and the materials used to construct your space will also have a significant impact on the longevity of your design. Incredibly tough and durable worktops and strong solid cabinets will withstand many years of wear and tear, which, if you're planning to future proof your kitchen, might make a more worthwhile investment than a glamorous tap or state-of-the-art hob.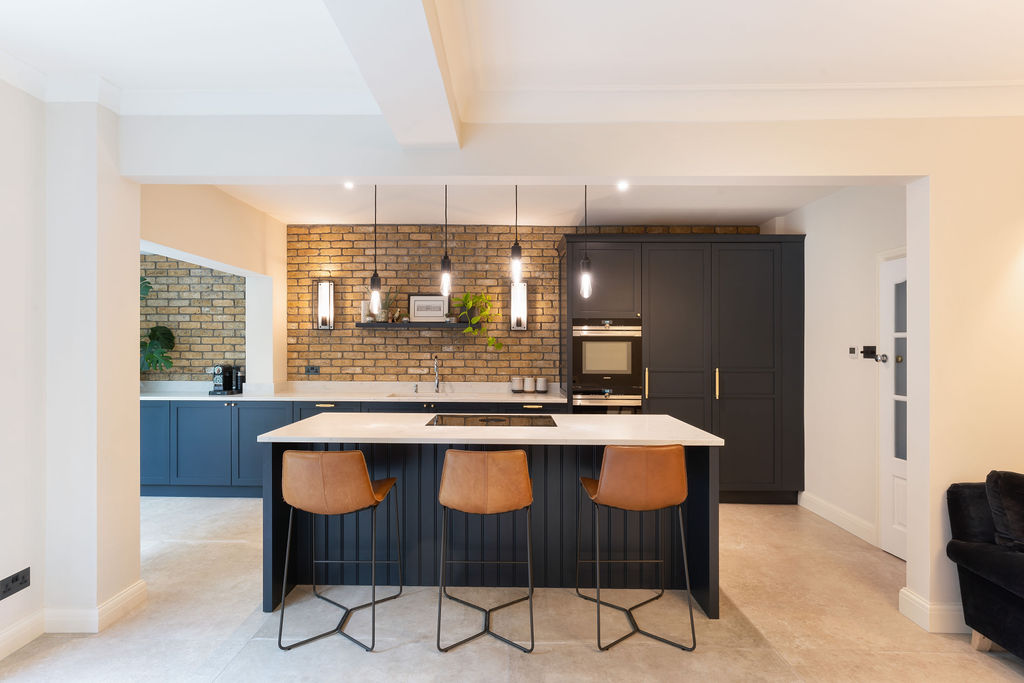 Prioritise Lighting
While sometimes lighting can be a bit of an afterthought, here at TBKC Essex, we often discuss lighting at your very first design consultation. Lighting has the ability to completely transform the atmosphere of your space. From creating a fresh and open feel with natural light to setting a cosy mood with warm pendants, getting your lighting scheme right will set your kitchen up for a versatile range of activities. It's important to consider how natural light could impact your space before getting too far down the line with your design, as you may wish to rethink your layout or undertake building work to bring more light into the room.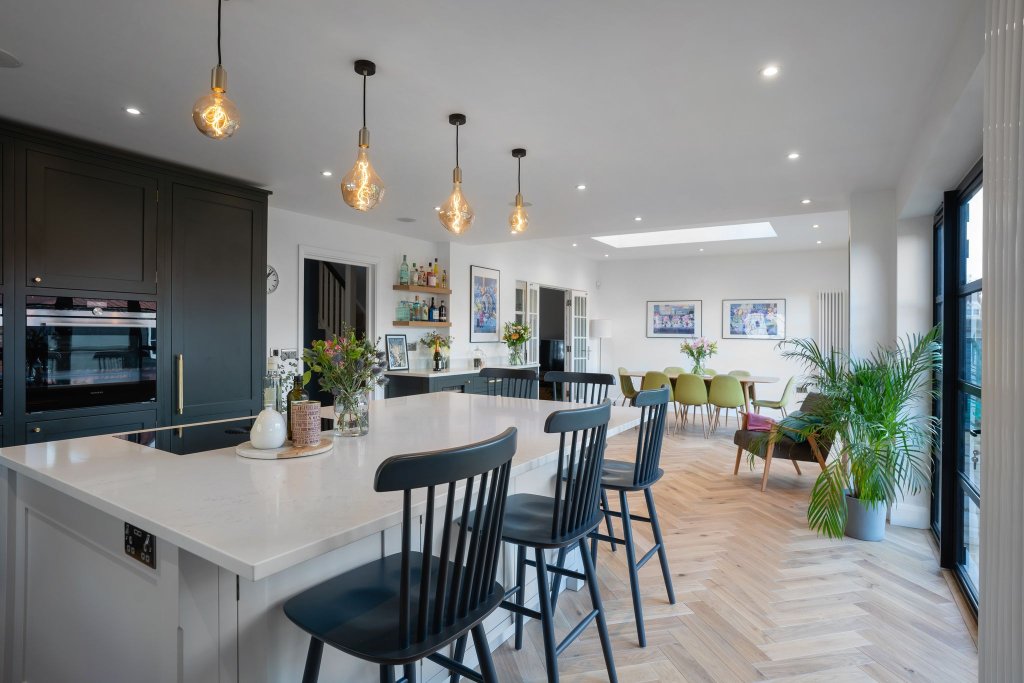 Forget Following Trends
Flicking through magazines and scrolling through social media can be a great way to find inspiration, but ultimately, most kitchen trends will come and go over the years, meaning there's little point in slavishly following the latest fashions if you're looking to create a design that lasts. At the other end of the scale, you will inevitably find plenty of tips on how to design a timeless kitchen. From constraining yourself to a bland neutral colour scheme to including an easy to repaint feature wall, there are ample ways to avoid commitment.
However, here at TBKC Essex, we believe the best way to create an interior that provides endless years of enjoyment and pleasure is to simply find a design you love. We delight in pushing the boundaries to combine exquisite finishes, gorgeous details and eye-catching layouts to bring our client's visions to life. If you're planning to future proof your kitchen, you'll want to create a truly showstopping, original and authentic design that captures your personality and fills you with joy. If you're unsure where to start, we would strongly advise getting in touch with your local independent kitchen design experts.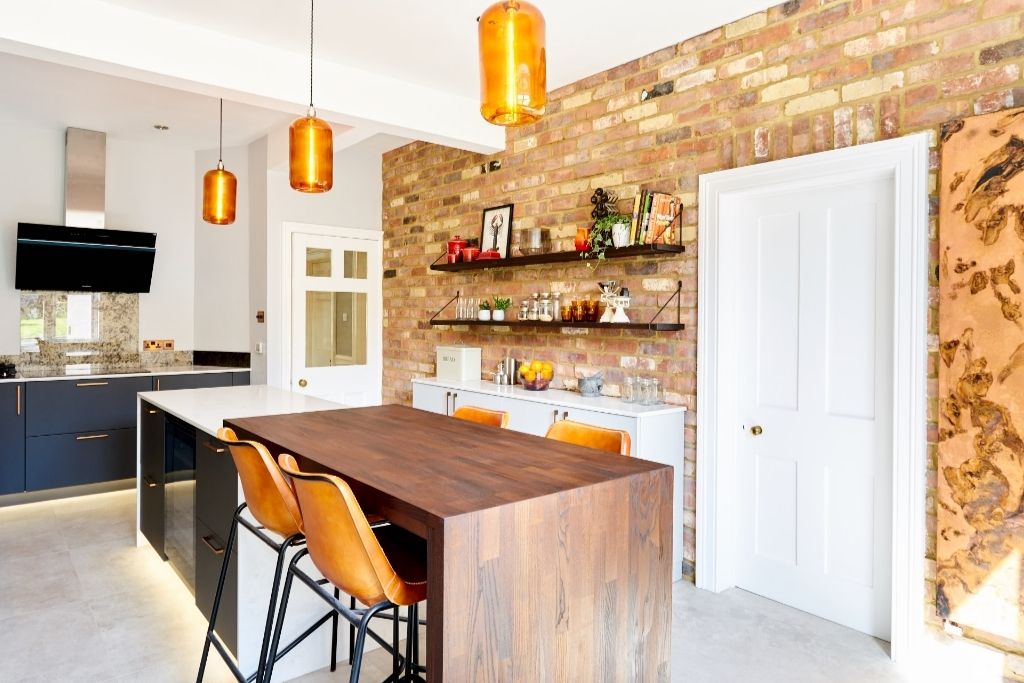 Future-proofing your kitchen can seem like quite a challenge and will certainly require plenty of careful planning and thought. However, when you do find your perfect design, you'll no doubt be delighted with the effect the transformation has on your home and lifestyle. At TBKC Essex, our talented designers are dedicated to helping our clients get the most from their spaces. If you'd like to discuss your exciting upcoming project, please feel free to give us a call on 01277 554 595 or email [email protected].