A Guide To Kitchen Colour Trends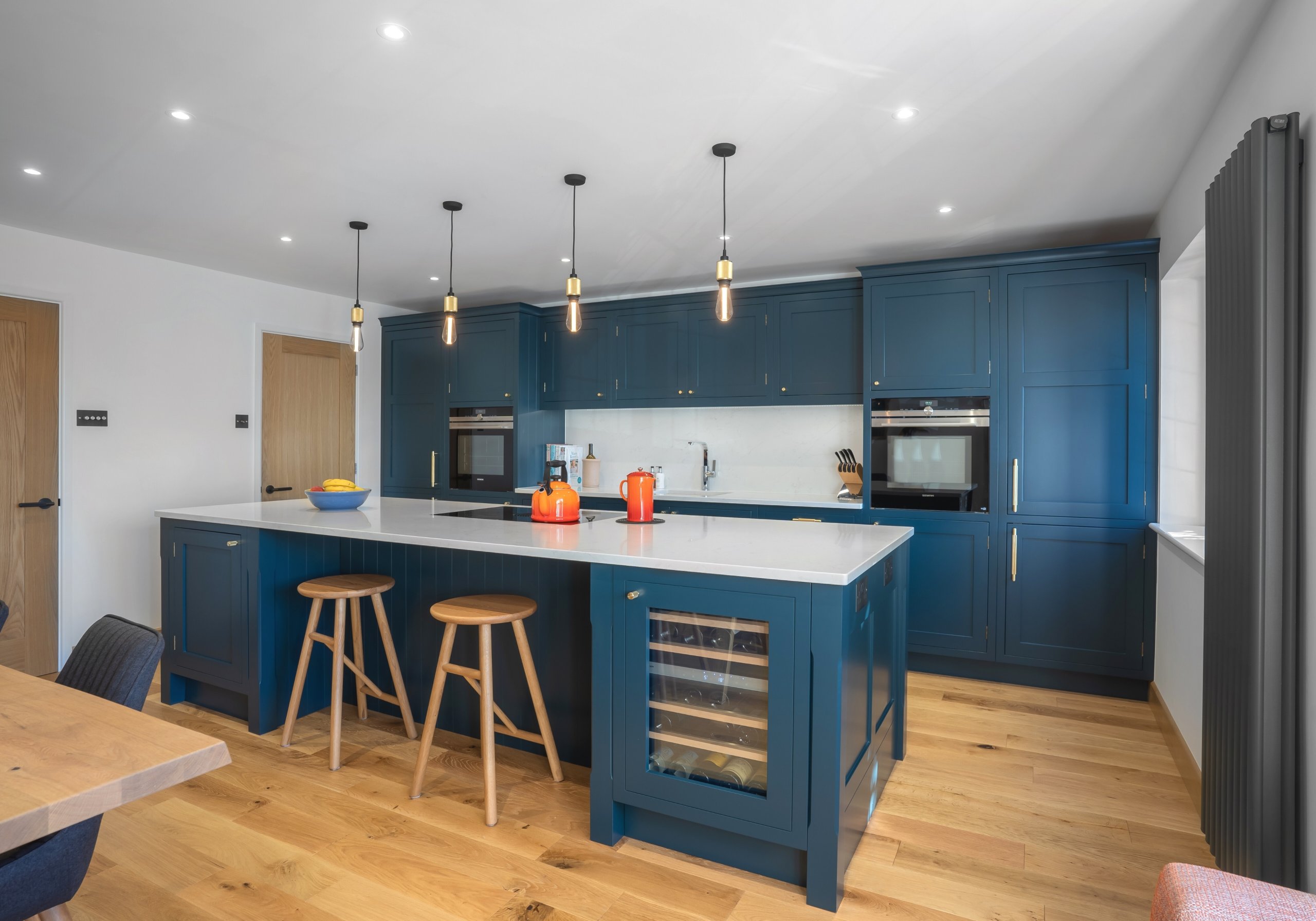 Colour plays a huge role in transforming the atmosphere and style of your kitchen and is something our designers and clients are placing increasing emphasis on to achieve stunning and bespoke designs.
We've put together this exclusive guide to introduce you to some of the exciting new colour trends that are currently at the forefront of interior design. While we understand you need your kitchen to stand the test of time, looking to the latest trends is a great way to find inspiration so that you can craft your perfect space.
Dark and Dramatic Shades
We simply can't fail to recognise the remarkable popularity of darker more dramatic colour schemes. Many of our clients have been opting for this stunning look with great success. Last year was the year of navy blue and this year sees a massive demand for forest green, whilst dark grey remains a firm favourite of the kitchen colour palette. Opting for a dark colour scheme brings drama and sophistication to the space as well as giving a contemporary feel to a traditional designs such as in the in frame kitchen below.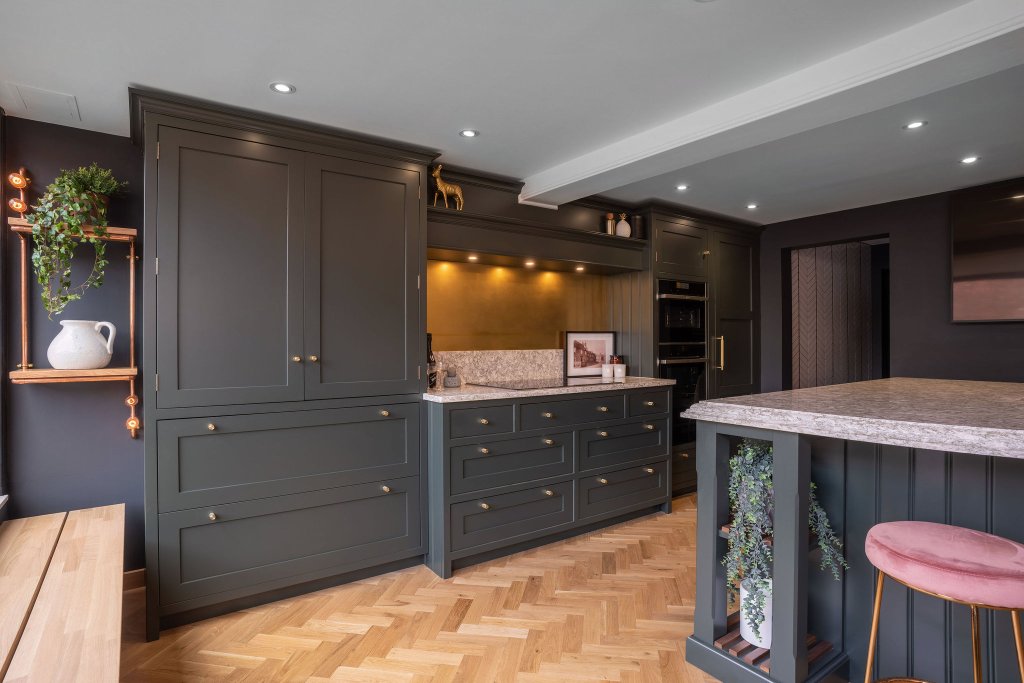 This deep grey kitchen looks incredible paired with warm lighting, opulent stone worktops and a classic herringbone floor. On-trend brass and gold fittings pair beautifully with a darker palette to enhance the sense of luxury and quality. A darker kitchen makes for an incredible evening ambience, perfect for entertaining and creating a real statement look.
Wood Finishes
Wood finish kitchens are currently experiencing a modern revival. Lighter oak and ash flat panels are a beautiful way to introduce warm details and texture into your space. Combining wood finishes with a calming and muted colour palette such as sage greens, beige, cream and greys brings a tranquil and nurturing feel to your space.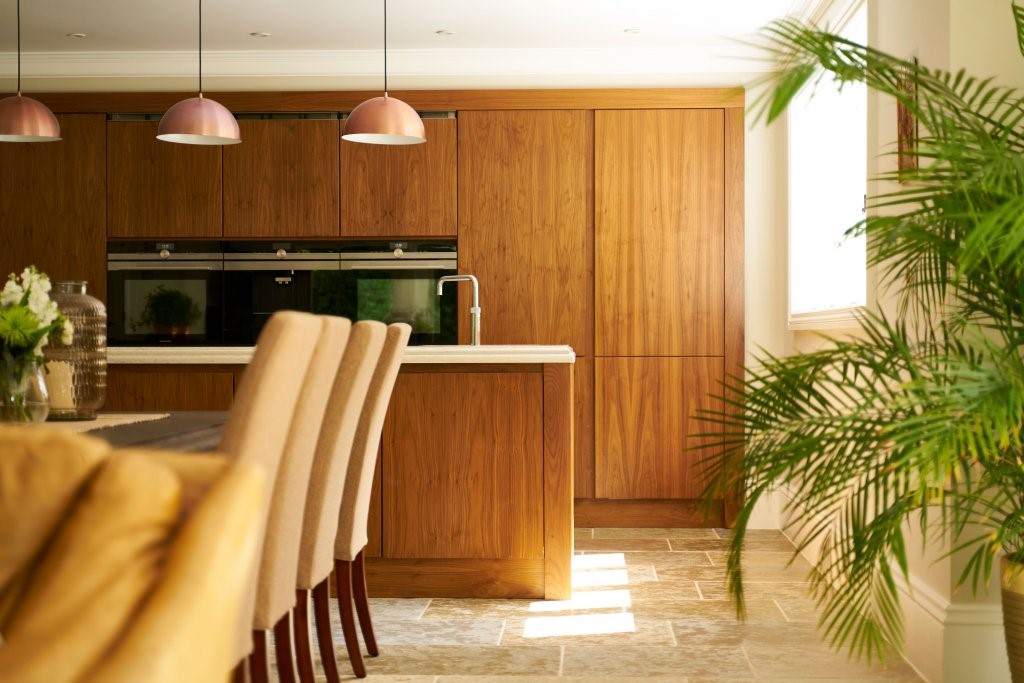 Whether you opt for full wood panel doors or introduce smaller accents through overhead cabinetry or a kitchen island, using a natural finish will help bring a softness and positivity to your kitchen design. Go a step further by bringing houseplants and botanicals into your home for a welcoming haven.
Industrial Textures
With an increase in the popularity of handleless and flat panel German kitchen designs, we are seeing a new interest in exciting and dramatic textural finishes. Slate, concrete, metallic and oxidised surfaces create a striking and cutting-edge design statement in a contemporary kitchen. These textural materials complement the trend for darker and more dramatic kitchen colour schemes.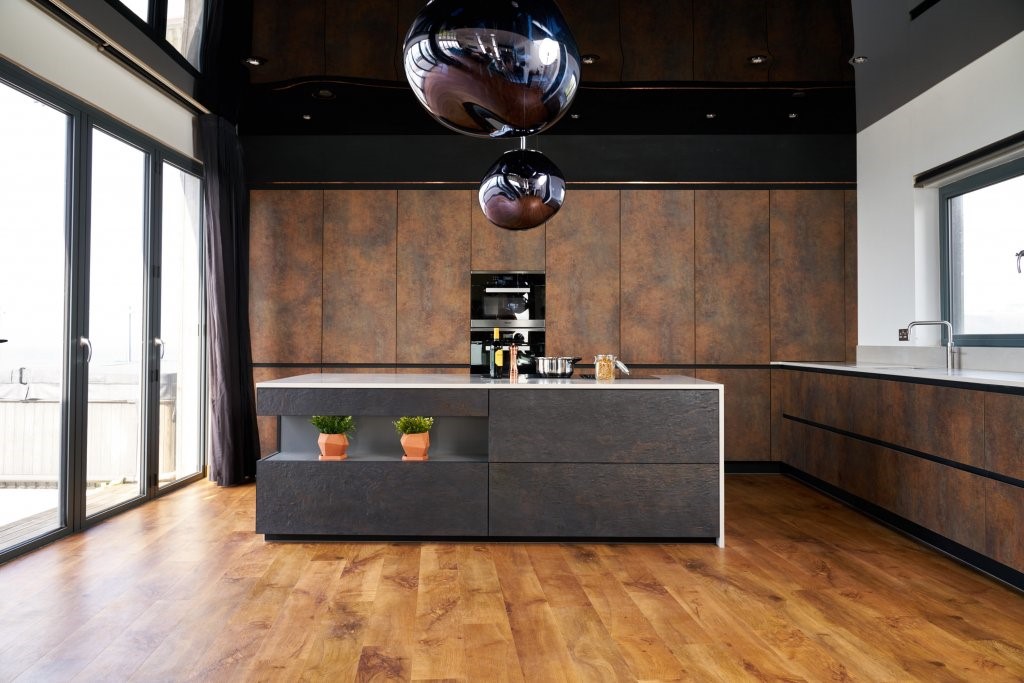 The growing demand for flat panel kitchens has expanded the availability of these unusual finishes, allowing us to create an extraordinary and unique wow factor kitchen with a modernist, architectural edge.
Vibrant Accent Colours
Include bright and striking colour accents in your kitchen design will help to bring a really, uniqe edge to your space. Adding pops of colour to your splashbacks and units is the perfect way to create a playful and personal design feature whilst still looking modern and tasteful. The use of bright orange in this below project works perfectly with the sleek dark blue and grey cabinets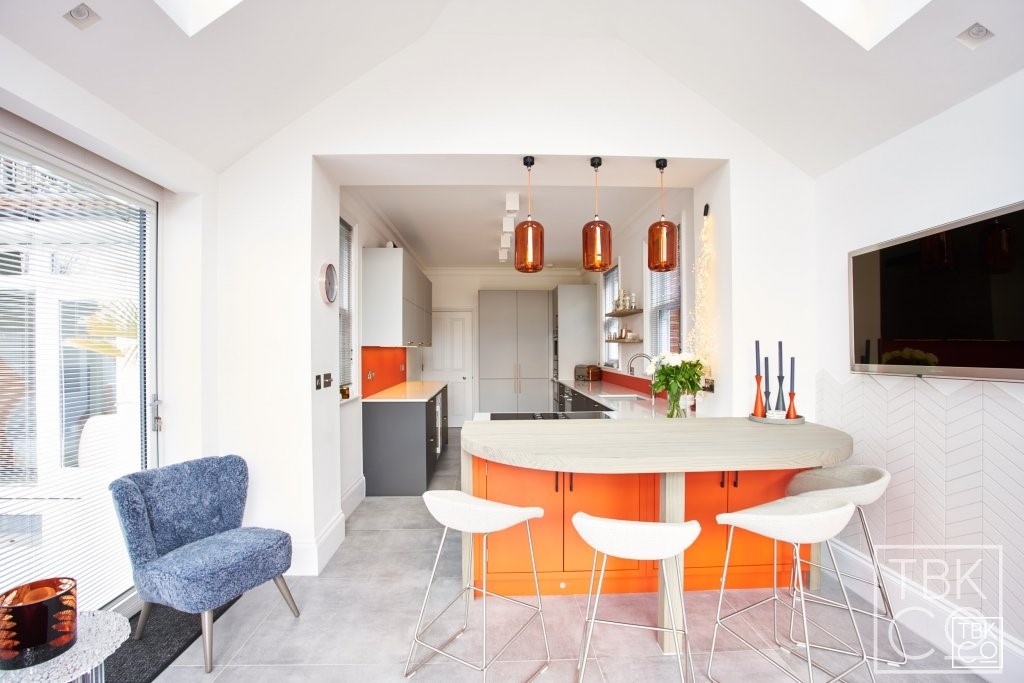 Fresh white walls and minimal cabinetry keep the space light and clean for a stylish and energetic room.
The Painted Grey Kitchen
For a timeless kitchen colour scheme, look no further than opting for an elegant grey. This colour flatters any space and works fantastically in both modern and traditional kitchens. Grey endures in popularity with our clients for good reason; its simplicity and grace exude style and taste. This tone complements a variety of accent colours. We included these stylish orange barstools in the below project to add a contrasting feature which gives a modern and vibrant edge to a simple design.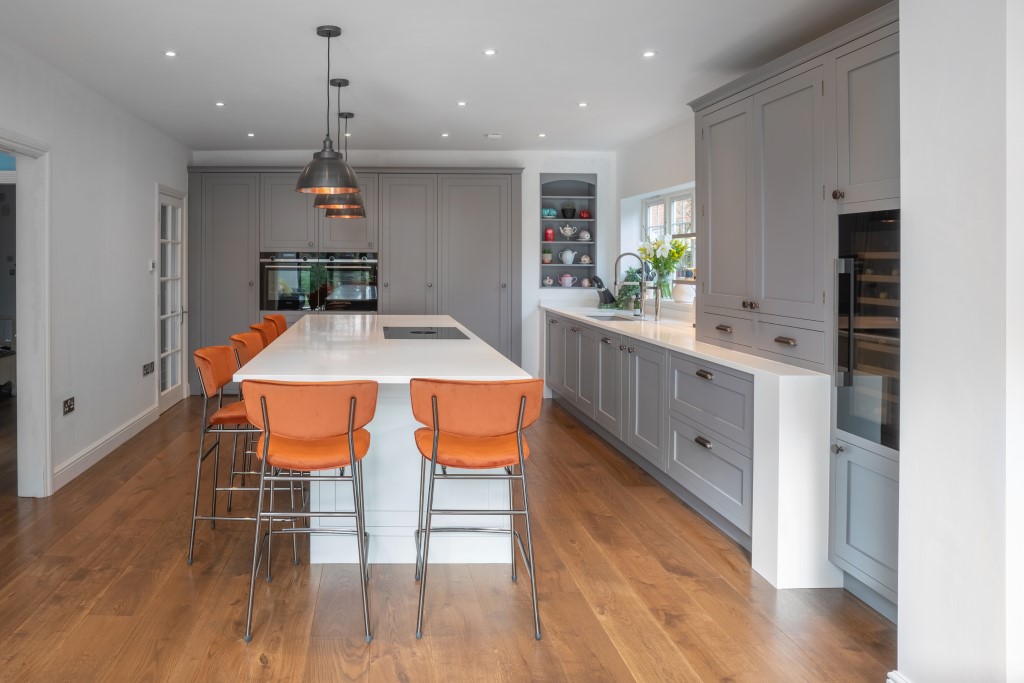 Keep your colour palette simple and monochromatic for a more understated look to or take it up a level with quirky colourful details.
Two Tone Colour Scheme
Another great way to subtly introduce colour and add depth to your kitchen is with a two-tone design. Positioning a statement colour below the eye-line adds an extra dimension without overpowering the room. Choosing a neutral, light tone for most of your space keeps your kitchen feeling open and spacious whilst allowing you to bring a colour you love into your design. Adding colour to a kitchen island makes an impactful statement by emphasising the luxurious feature.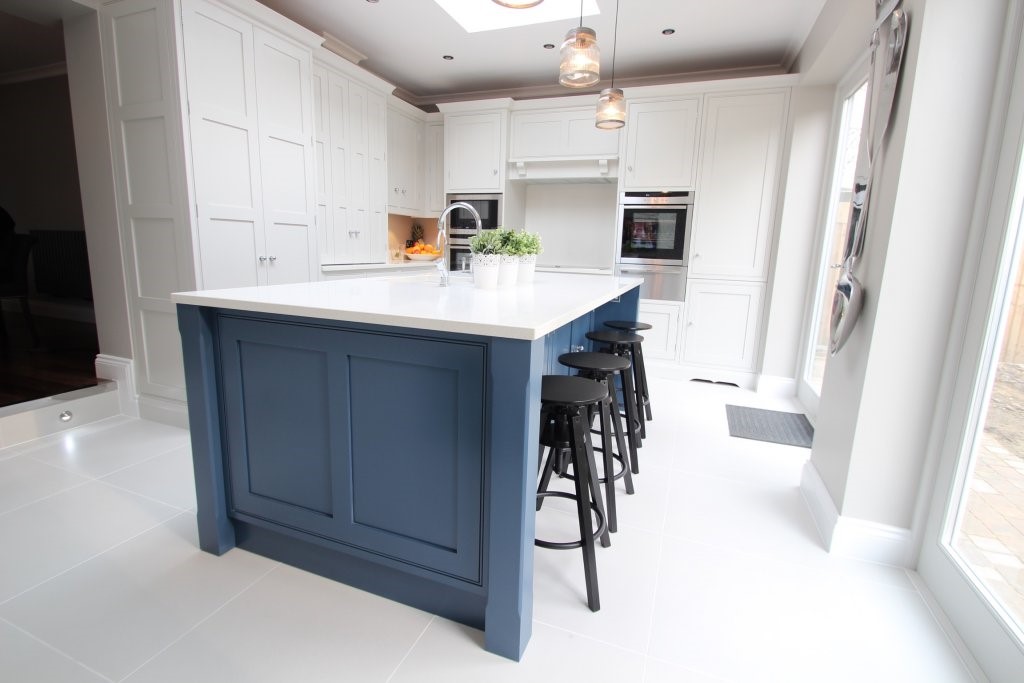 Whether you prefer a more elegant and understated look, or you want to add drama and excitement to your space, there are a vast range of colour scheme options for you to consider. If you would like to know more about using colour in your kitchen project, please don't hesitate to contact our knowledgeable design team. You can call us on 01444 647640 or book a design appointment by clicking here.