Kitchen Lighting Design Ideas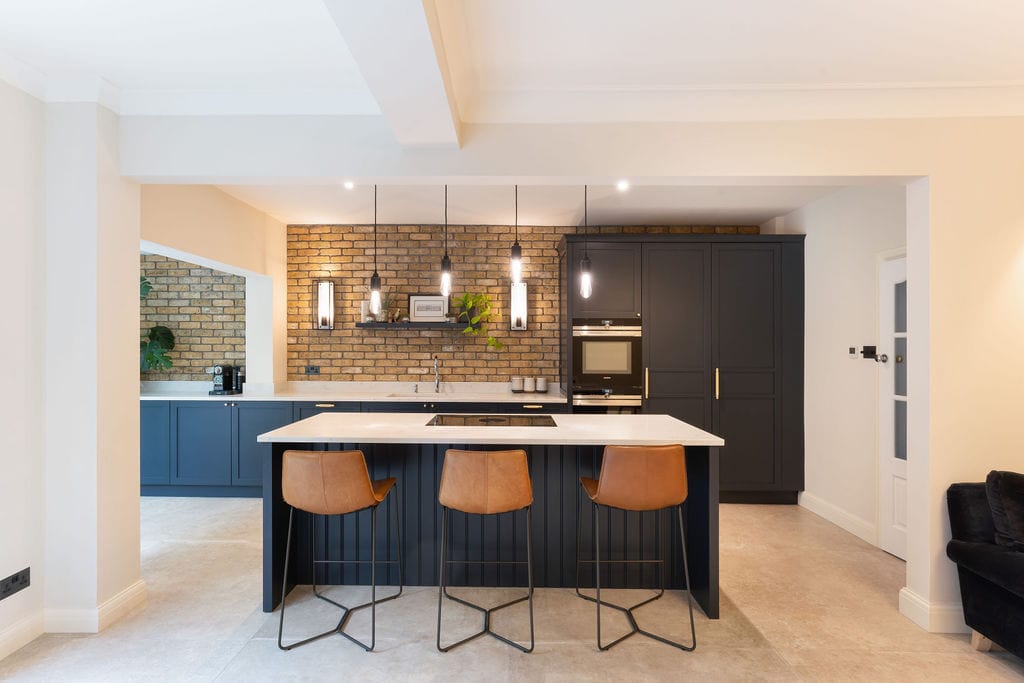 Here at TBKC Essex, we specialise in creating extraordinary interiors that transform your home and elevate your experience on a daily basis. One of the features that play a crucial role in our spectacular designs is lighting. Far from a simple practical consideration, trust us when we say; your kitchen lighting has the potential to take your interior to the next level. Bringing balance to your space, accentuating the most luxurious details, and creating a charismatic atmosphere, kitchen lighting truly is the ultimate transformational feature.
How To Layer Your Kitchen Lighting
The key to creating a stunning lighting scheme that transforms your space is balance. There are several lighting types, that when used in perfect harmony, will create a beautiful and practical composition that brings depth and finesse to your design. Once you've got to grips with these different lighting types, we will take a look at some of our recent projects to explore how you can achieve a stunning layered lighting design in your space.
Ambient- Ambient lighting should evenly illuminate your whole room, establishing a base level of brightness that's suitable for seeing your space clearly and navigating safely.
Task- While ambient lighting should offer an adequate level of visibility, task lighting serves to inject even more light in the areas that need it most, such as work surfaces, cupboards and shelves.
Accent- Often crossing over into the realms of ambient and task lighting, accent lighting adds to the aesthetic of your interior, either by highlighting your favourite design elements or acting as a standalone feature.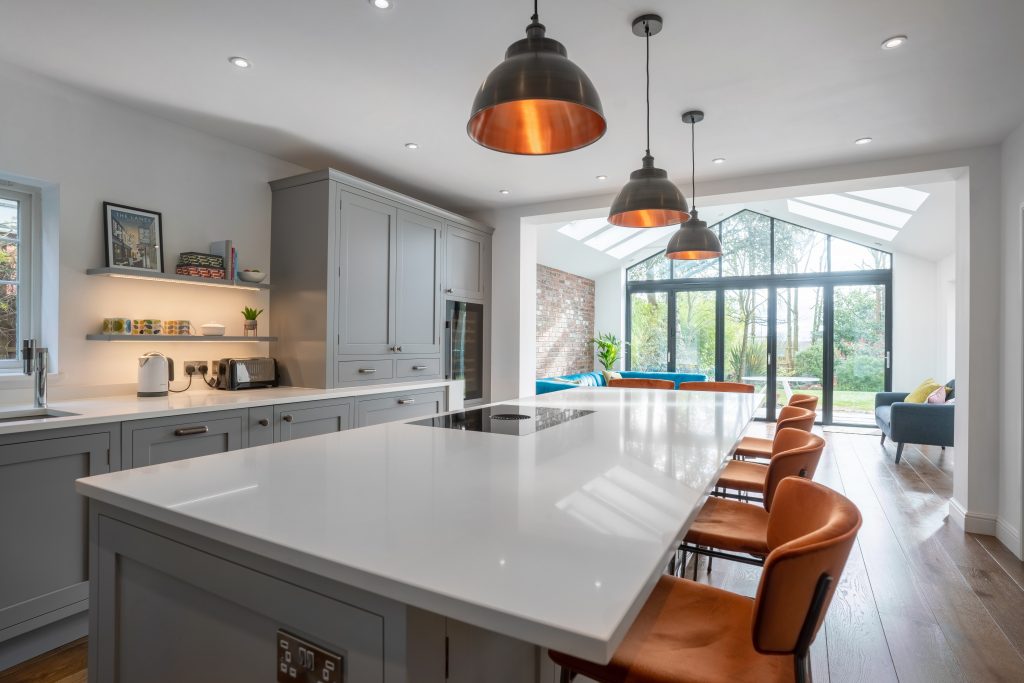 Bringing Warmth To A Spacious Kitchen Diner
While ideal for creating a spacious and sociable interior, large open-plan kitchen and living areas can run the risk of looking sparse and disjointed. Lighting is a fantastic way to add warmth to an open-plan space while bringing different zones together. In the breath-taking Essex kitchen below, we've paired a Buster & Punch chandelier with matching industrial pendant lights to create a sense of cohesion, both through the lighting itself as well as through the style of the fixtures.
Under-cabinet task lighting provides excellent visibility across the worksurfaces; however, it also wonderfully accentuates the rich colour and rustic texture of the exposed brick feature wall. Bringing an on-trend informal edge to this sophisticated in-frame kitchen, the characterful texture and warm colour is mirrored by the beautifully illuminated vintage dining table. Emphasising these subtle design details brings outstanding warmth, depth and balance to the space.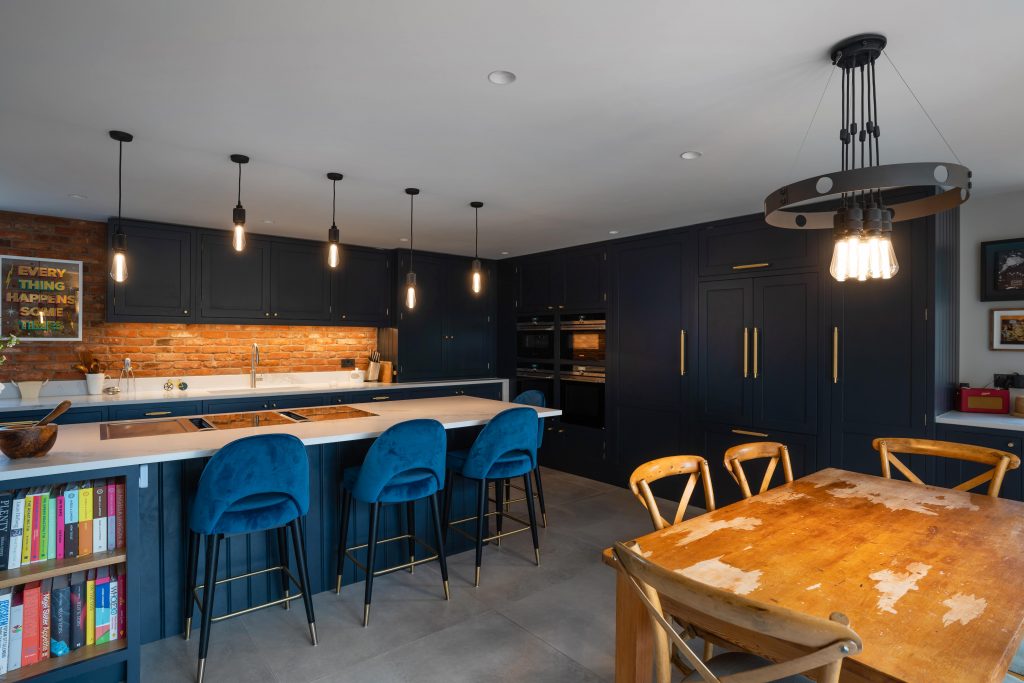 A Bright Modern Kitchen With A Sophisticated Edge
Centring on clean architectural lines, pristine matt surfaces and a striking monochrome colour scheme, this contemporary kitchen thrives on its crisp and bright ambient lighting. Seamless and minimal recessed downlights are the most popular option when it comes to ambient lighting. However, natural light shouldn't be overlooked. A small central skylight floods this kitchen with natural brightness, bringing a whole new dimension to the fresh modern design.
Subtle yet sophisticated, LED accent lighting integrated into the cabinet trim cleverly contributes to this striking futuristic kitchen interior. Complementing the copper bar stools and exposed brick wall, contemporary vintage-inspired pendant lights highlight the island while adding a perfect touch of character. Lighting undoubtedly takes this flawless kitchen from a clean and simple contemporary space to a spectacular enviable interior.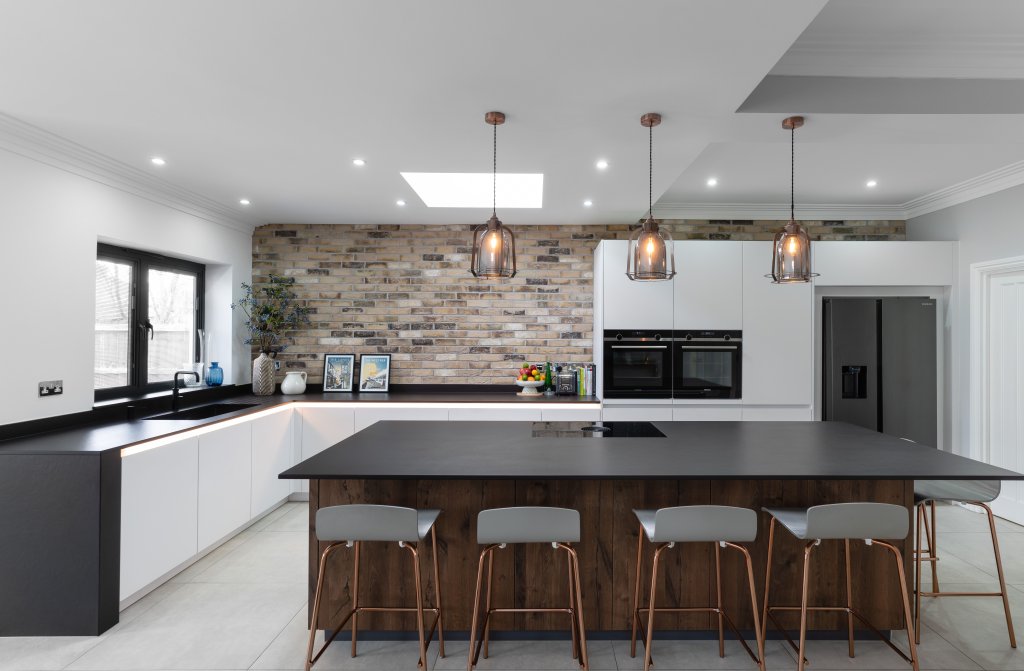 A Lighting Scheme To Emphasise Your Favourite Features
As a space for cooking, entertaining and relaxing, kitchens are often considered the heart of the home, and as such, your design should reflect your own individual personality and style. Kitchen lighting offers the perfect opportunity to emphasise the character of your space, highlighting your favourite features and adding a personal flourish to your design. The owners of this effortlessly cool and laidback Essex kitchen were keen to showcase their eclectic taste, introducing gorgeous tangerine glass pendants to add a pop of vibrancy. The stunning lantern pendant lights accentuate the orange undertones of the leather bar stools and exposed brick wall as well as drawing attention to the stunning dining island.
Another feature that subtly transforms this elegant interior is the Grespania Tempo Smoke floor. The soft, mottled concrete-like surface sweeps through the space establishing a luxurious modern finish. Warm glowing plinth lighting highlights the exquisite flooring while giving the cabinets the illusion of floating above its radiant surface. This level of attention to detail undoubtedly elevates the design, creating a truly unique space for cooking and entertaining.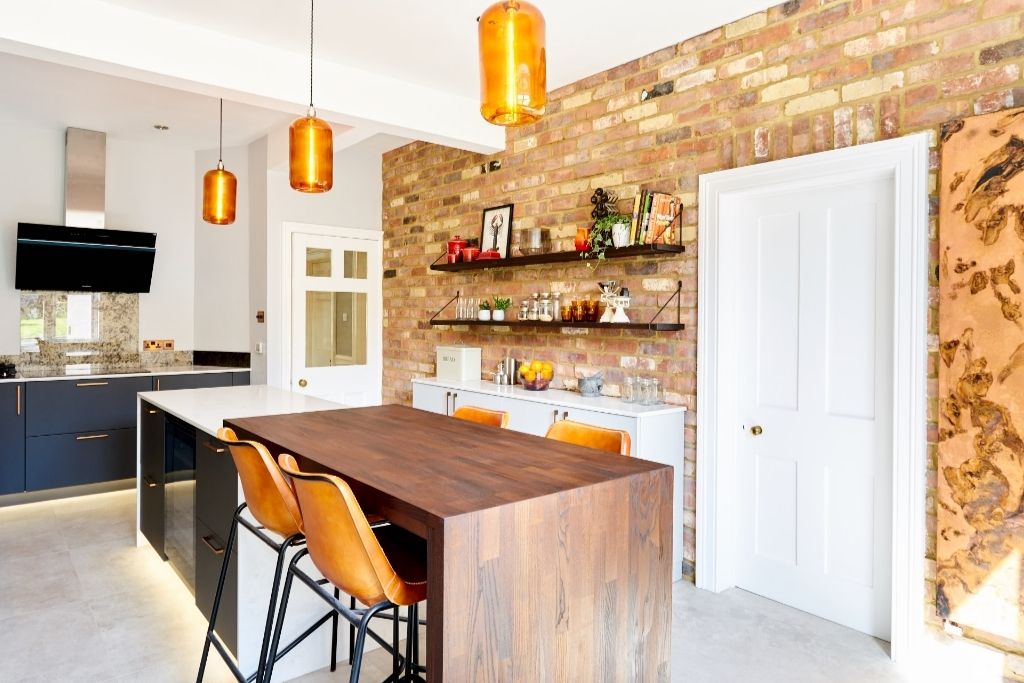 From The Practical To The Luxurious
While your kitchen lighting can make a bold statement, transforming the atmosphere and look of your room, it can also enhance your experience on a personal level. Hidden out of sight from guests and visitors, a beautifully illuminated and perfectly arranged solid oak pantry is simply a joy to behold. From internal drawer and cabinet lighting to stylish wall lights that help set a relaxing mood, there are a host of ways to tailor your kitchen lighting to your individual needs. Whether cooking a special dish for loved ones or treating yourself to a well-earned tea break, your kitchen is first and foremost your domain, and so including a little luxury that's just for you is a must.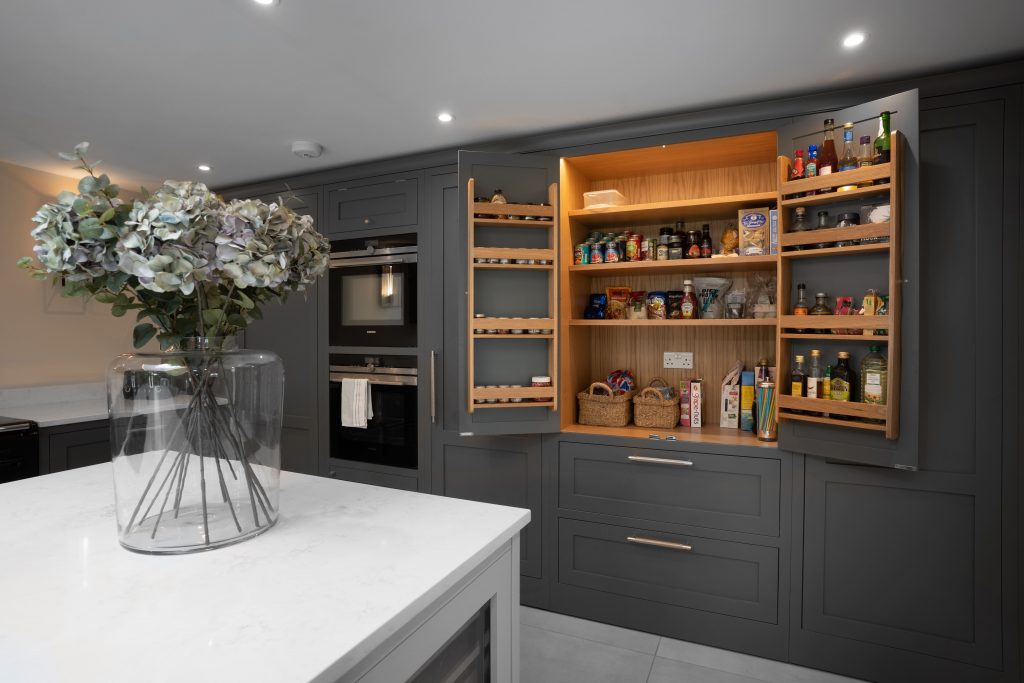 With your personal requirements and the unique features of your home to consider, planning your kitchen lighting from day one of your design journey is essential if your lighting scheme is truly going to enhance your space and transform your experience. We hope this guide has given you some great inspiration to get you thinking. However, if you'd like to know more, please don't hesitate to get in touch with our award-winning design team. You can call us on 01277 554 595 or drop us an email at [email protected].