Shaken and stirred: introducing our first kitchen design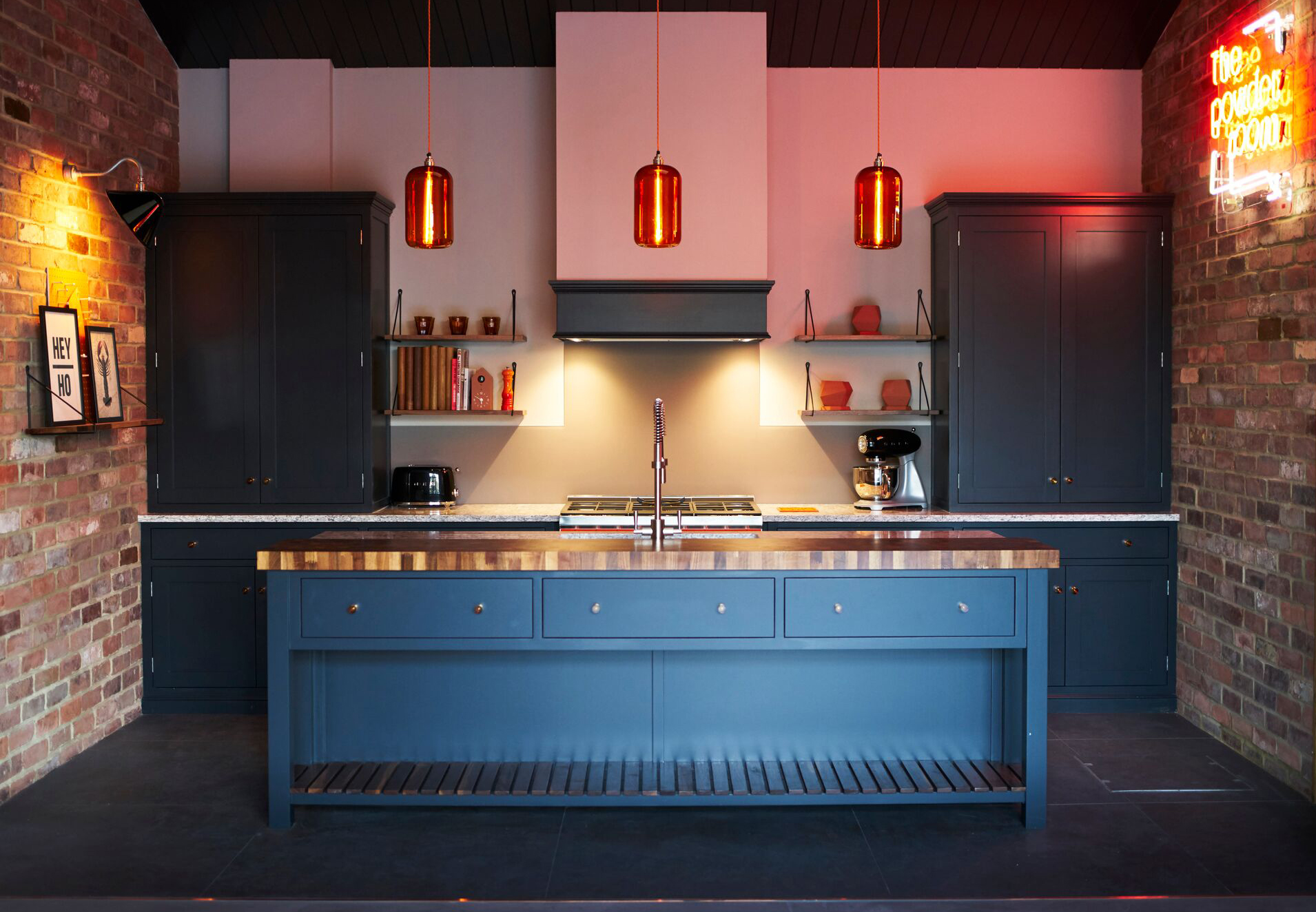 Our Hickstead showroom manager, Doria Lopalco introduces us to the first Brighton Kitchen Company design that combines a Shaker style with the industrial chic look.
Where did you start with your design of this kitchen?
The industrial chic trend is here to stay – the high ceilings in this space lend itself to loft-style living. The overall design picks up on urban trends, but is softened by the Shaker style of cabinetry which can be easily incorporated into everyone's home
What's the colour scheme?
The space incorporates near-black hand-painted cabinetry, providing drama to the overall scheme. Pops of orange throughout the space add bold yet quirky elements. Walnut features have been introduced to provide rich, warm tones and a quartz worktop with natural stone effect adds a sumptuous element to the scheme.
What elements do you think will deliver the wow factor?
Smeg's new award-winning Portofino range, inspired by the lights of small Mediterranean harbours, will be launched this summer. The Portofino range cooker in orange provides a focal point for the scheme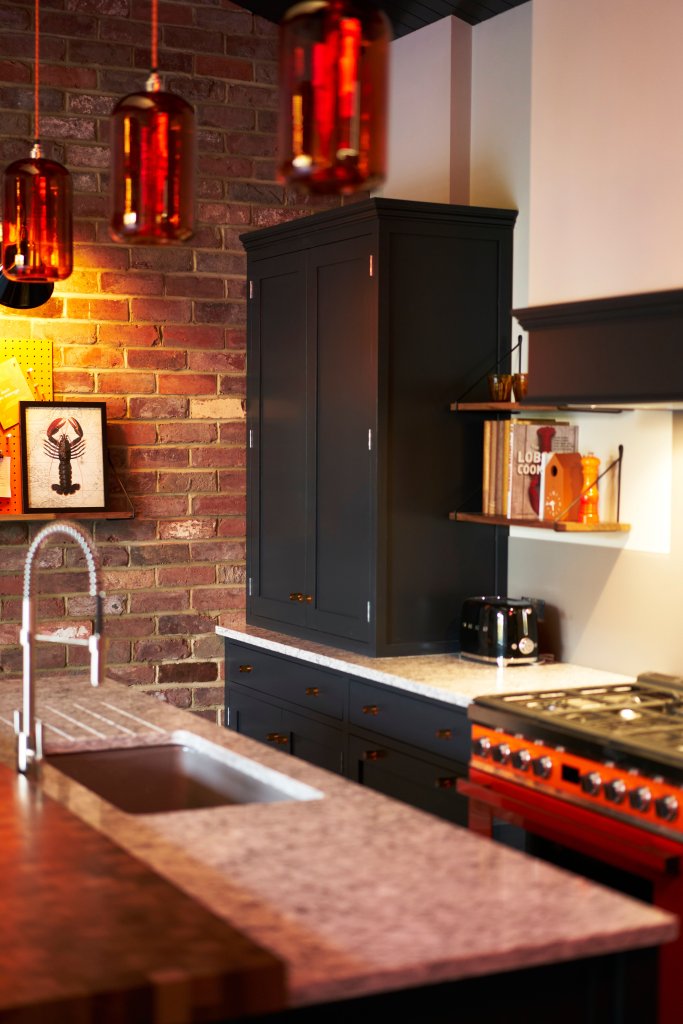 Describe the lighting
Amber glass pendant lights have been sourced to create a warm, inviting glow, which ties in well with the accents of orange within the scheme. Industrial wall lights provide additional ambient lighting
What are the wall and floor coverings?
Brick tiles on the walls are essential to the industrial style but will also add warmth and character to the scheme. The dark, textured porcelain floor tiles have a warm undertone with light hints of amber.
Any interesting textures going on?
The rough, raw finish of the brick wall tiles and lightly textured floor tiles contrast with the smooth surface of the mink glass splashback in the chimney breast. Additionally, contrasting worktop materials of quartz and walnut have been included. The wide variety of carefully chosen textures creates greater depth to the overall scheme
What's your favourite bit?
The Shaker style of kitchen is very versatile, so with only a few small changes such as a repaint of the cabinetry, change of handles and differing accessories, this style could be transformed in years to come to fit with the next big trend. All of the cabinetry is hand-built using traditional joinery techniques making it a real investment kitchen built to stand the test of time in both aesthetics and functionality.
Because the hand-painted cabinetry allows you to be bold if you want to be, I would say my favourite part of the scheme is the pop of hand-painted orange interior as you open the Shaker larder dresser, which adds an element of surprise!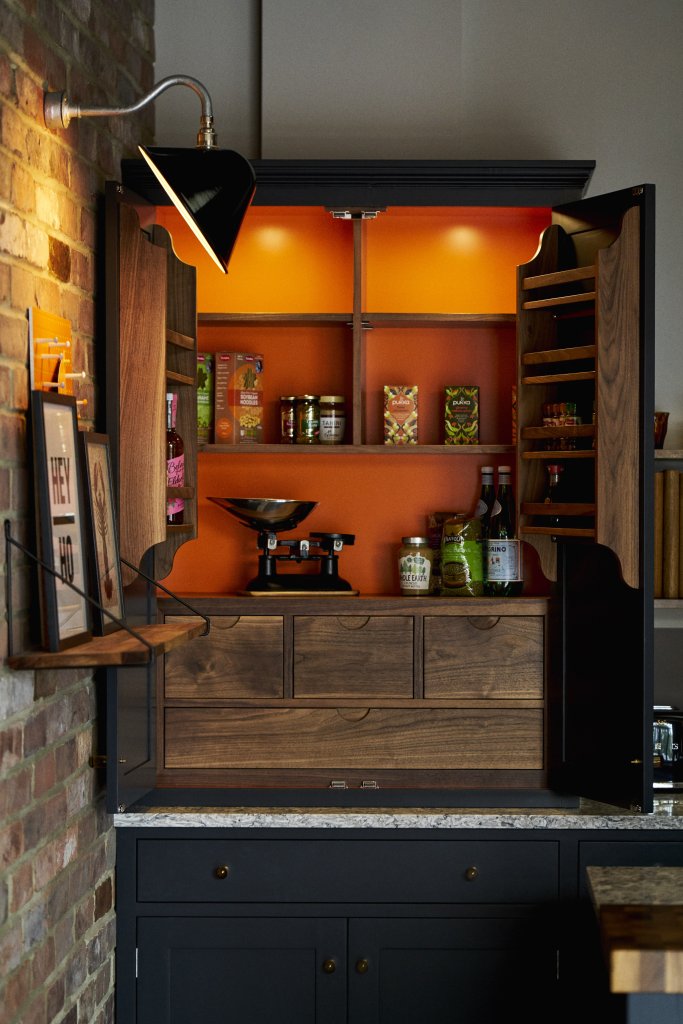 Get the look
Get the industrial Shaker look here