Shaker Kitchen Design Ideas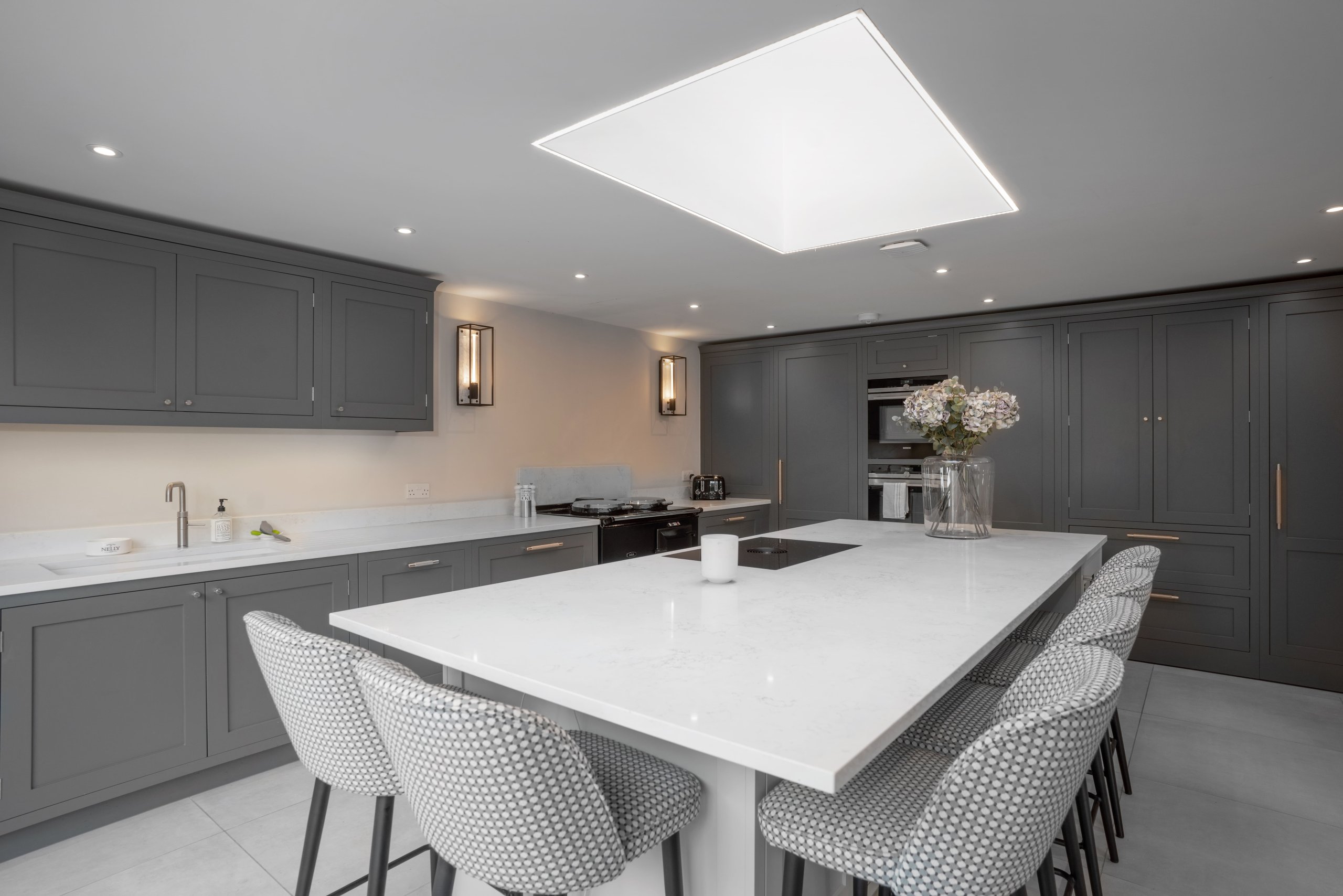 Shaker kitchens are remarkably popular. This is no doubt due to their timeless looks and reputation for quality. They were conceived over 300 years ago by a religious group known as the shakers. Their modest lifestyle encouraged them to make the most of precious resources. Thus, when constructing their furniture, they used narrow rails and stiles to minimise the amount of wood needed to strengthen the door. This simple detailing is now an icon of style and quality. Though shaker kitchens are often connected with traditional interiors, they are incredibly versatile. Here at TBKC Essex, we delight in pushing the boundaries of design. We've utilised shaker furniture to realise a broad spectrum of extraordinary interiors. We've selected six fantastic projects to demonstrate the flexibility shaker kitchens have to offer.
Cosy Country Kitchen With A Vintage Feel
As we associate shaker kitchens with wholesome country settings, they naturally evoke cosy character. We've chosen to really accentuate these qualities in the beautiful period property below. A dark painted finish and soft lighting establish a warm nostalgic atmosphere. Textural exposed brick and oxidised copper with similarly warm undertones add a rustic edge. Homely timber worktops and a lovely old range cooker complete the charming space. Though this kitchen transports us to a quaint country cottage, there's something subtly chic and contemporary about the industrial brick and copper accents.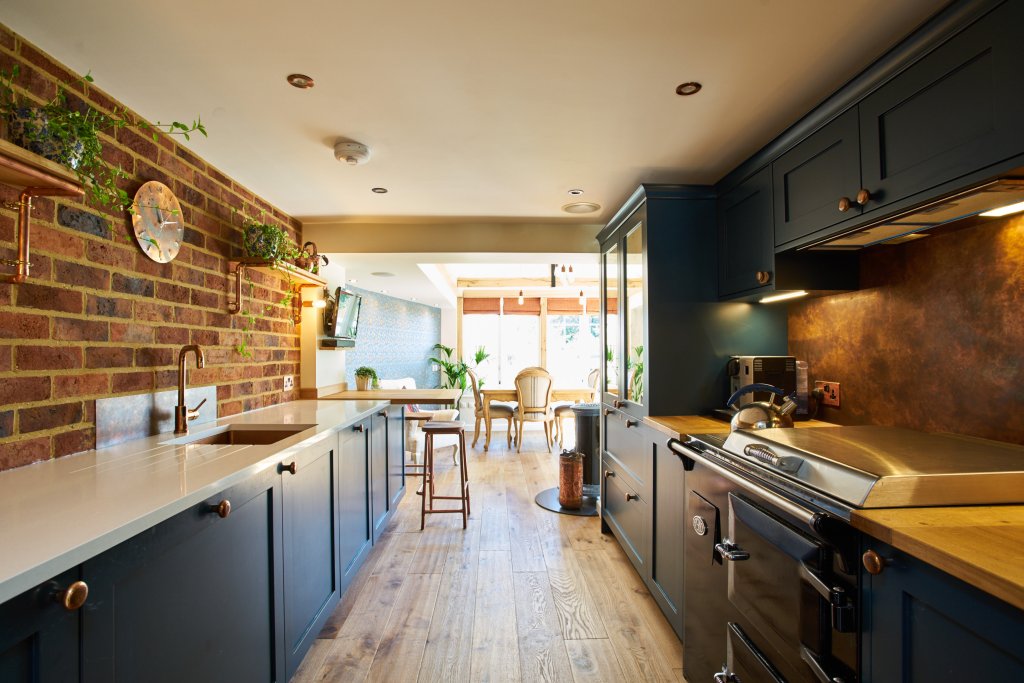 Showstopping Contemporary Shaker Kitchen
At the other end of the spectrum, this extraordinary space couldn't be more modern. An intense black hue envelops the room establishing opulent drama. Contemporary handleless units would have been the obvious accompaniment to this innovative design. However, the subtle detailing of a shaker style unquestionably elevates the lavish atmosphere. Slim black knurled handles from Buster + Punch add a modern yet luxurious edge. This showstopping, unconventional interior is both contemporary and timeless.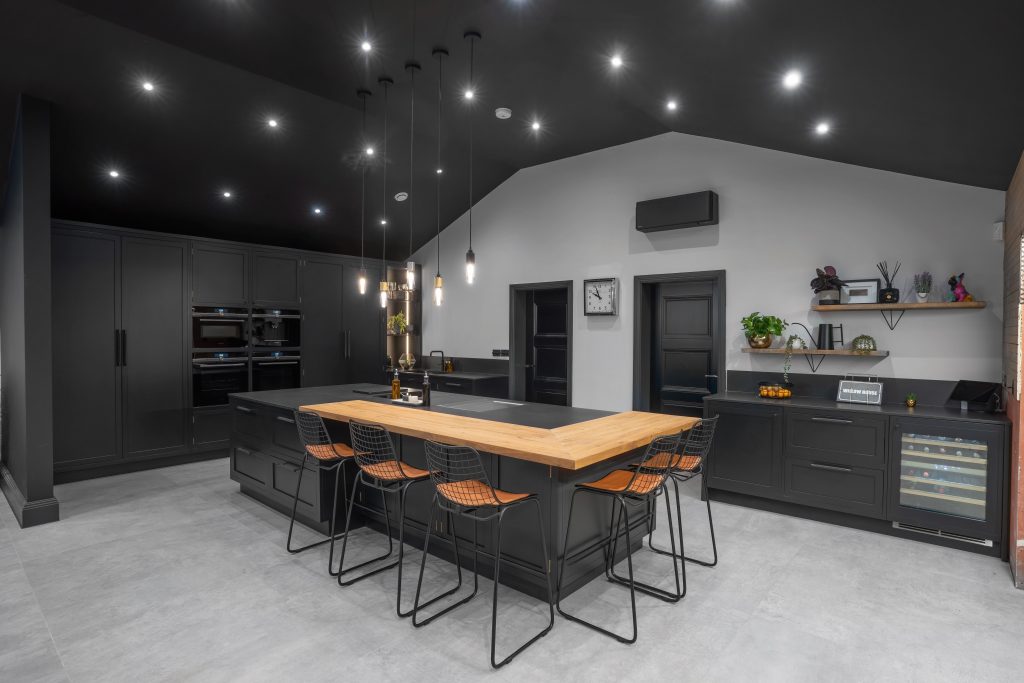 Timeless & Elegant Grey Kitchen
If you prefer a more understated aesthetic, this elegant shaker kitchen in Chelmsford could be just what you're looking for. A graceful neutral grey undoubtedly makes one of the most timeless and sophisticated colour choices. It gives this beautiful kitchen a luxurious classic feel. The simple, pared-back styling and monochrome palette allow the quality of the cabinetry to do the talking. Stylish upholstered bar stools and subtle marble-backed wall lights are all that's needed to complete this magnificent space.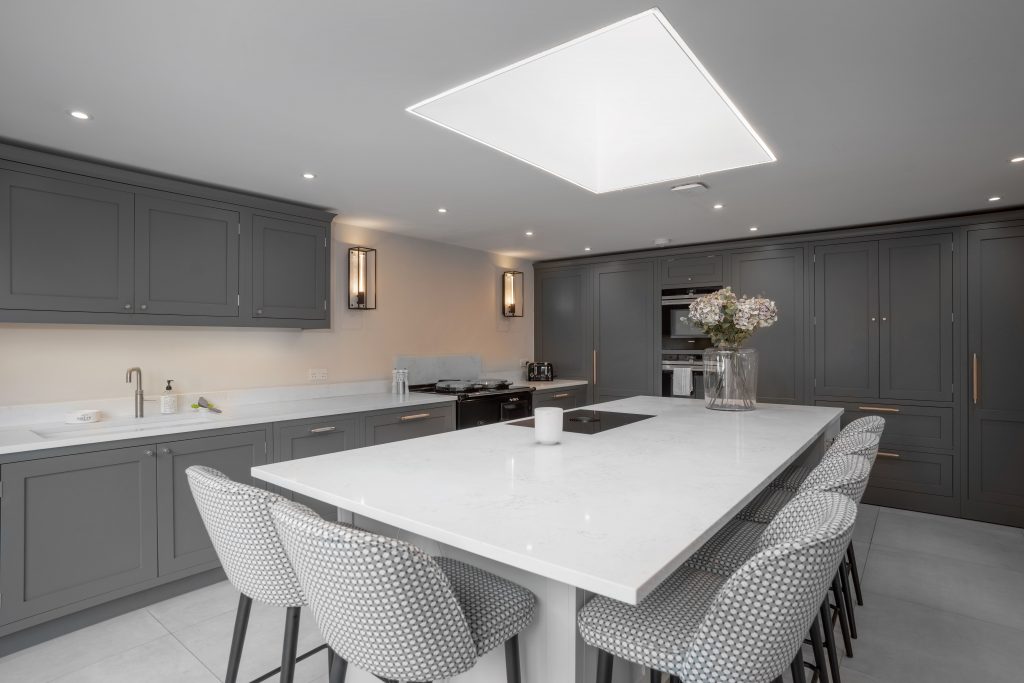 Vibrant Family Kitchen With A Contemporary Edge
Colour is deeply intertwined with our emotions and thus plays an important role in setting the tone of your space. A combination of Farrow & Ball's vibrant Hague Blue, a pop of Le Creuset orange and warming oak accents imbue this family kitchen with energy and vitality. Alongside plenty of relaxed wood touches, the shaker cabinetry helps establish an inviting, homely ambience. Industrial style pendant lights and stylish gold handles bring a contemporary quality to the design. This vibrant on-trend shaker kitchen makes the perfect backdrop to family baking sessions and midweek meals.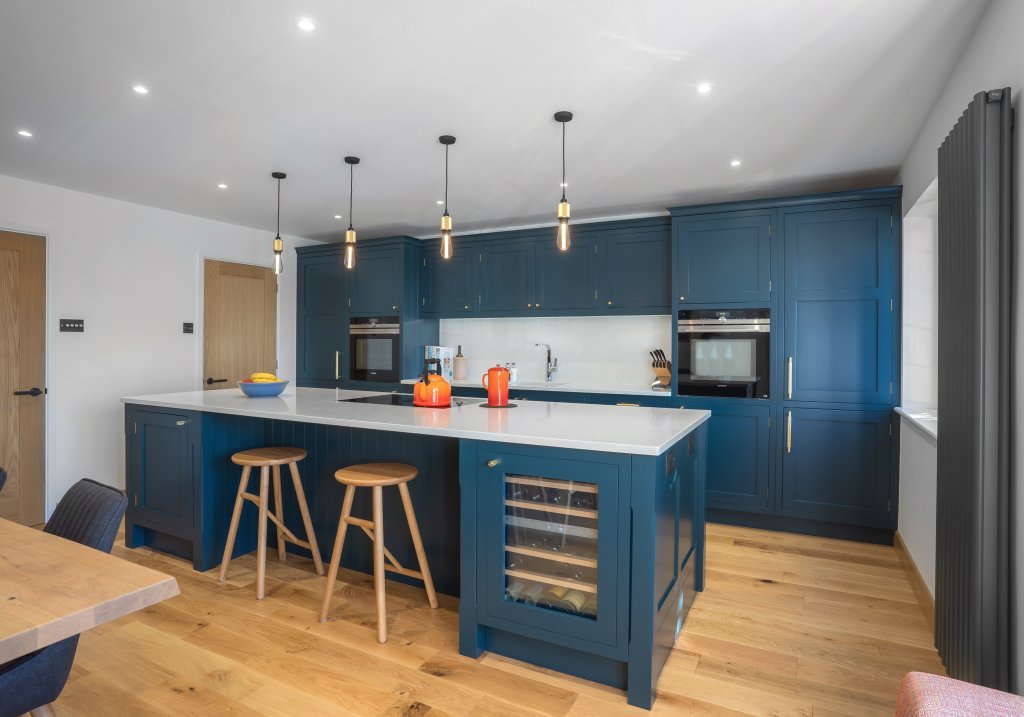 Airy & Inviting Traditional Shaker Kitchen
From the beautiful tongue and groove panelling on the island to the additional cabinetry above the pantry units, the attention to detail underpinning this kitchen is synonymous with time-honoured craftsmanship and tradition. A two-tone colour scheme brings fantastic depth while establishing a welcoming and airy atmosphere. The classic Studio Green and Wimborne White make the perfect pairing. Both colours evoke a timeless and sophisticated sense of elegance. Luxurious yet rustic limestone floors provide a fitting foundation to this beautiful country kitchen.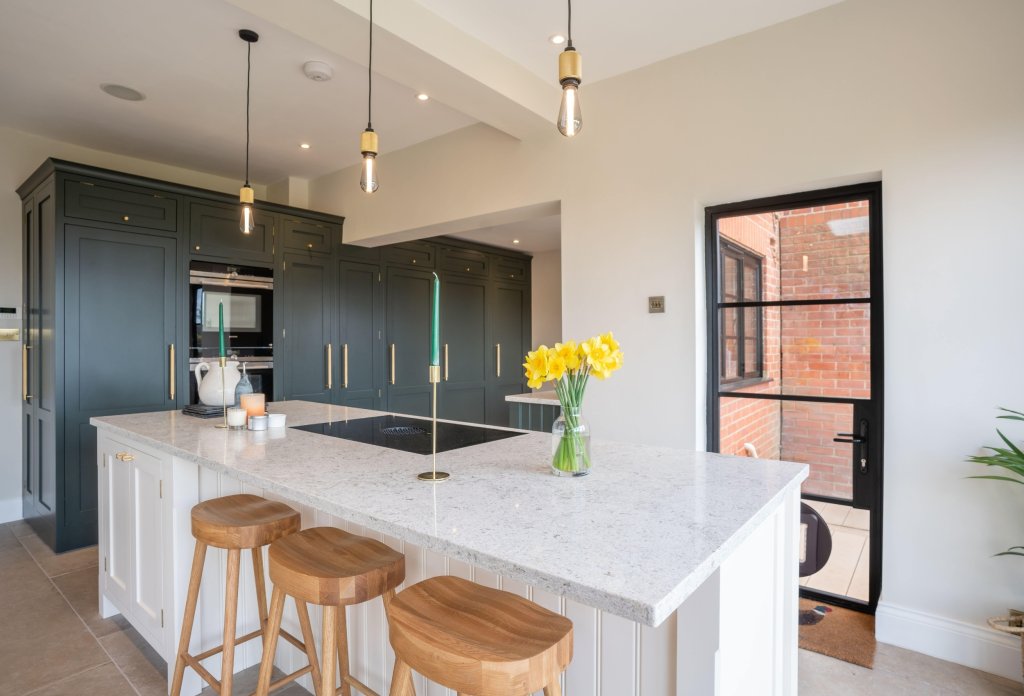 Glamorous Classic Kitchen
This magnificent kitchen makes a glamorous centrepiece to impress guests. At the heart of the space sits an elaborate bespoke mantel. This showstopping feature brings a regal presence to the room. A pair of silver ceiling lanterns and a vintage carriage clock continue the theme. The all-white colour palette brings the space right up to date, introducing a touch of femininity and style. Plush velvet bar stools and marble worktops contribute to the luxurious design, while a dark wood floor adds vital warmth. This extravagant interior offers a modern luxe take on tradition.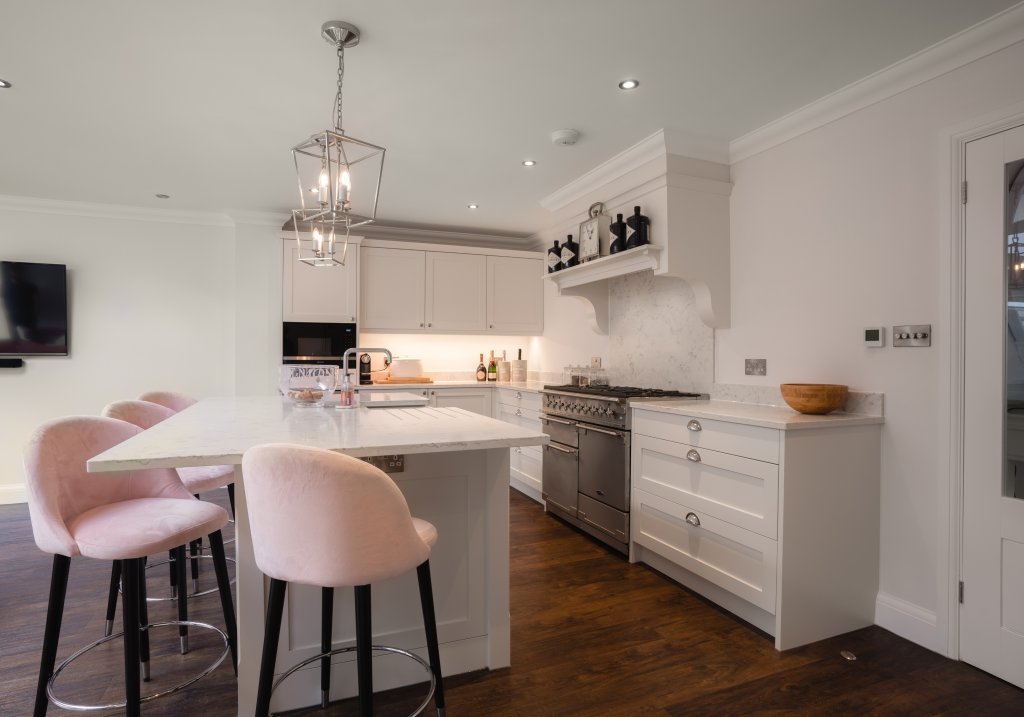 Shaker kitchens offer impressive versatility, especially in the hands of our award-winning designers. However, as our work shows, even something as subtle as your flooring or accessories can transform your space. From the cosy and vintage to the statement modern, there are countless ways to style your shaker kitchen. If you need further inspiration, you can get in touch with our team by calling 01277 554 595 or emailing [email protected].