Taking the edge off stark white kitchens
Doria Lopalco, branch manager at The Brighton Kitchen Company, shares her kitchen creation and explains how she designed a contemporary kitchen with a feminine touch.
Where did you start with your design of this kitchen?
It's fairly simple to design a modern, white, handleless kitchen to create a contemporary feel. However, this has been done many times before and the outcome can sometimes be quite harsh or stark. I wanted to inject a feminine touch into the scheme by incorporating on-trend dusky pinks, whilst retaining a contemporary overall feel.
What's the colour scheme?
The cabinetry combines a matt white finish with accents of soft grey in the tall-height furniture. Soft pink tones are incorporated throughout the scheme, fused with muted green tones, to create a calming atmosphere. Highlights of black are used in the appliances and taps to create a stand-out feature and add to the modern feel of the scheme.
What elements do you think will deliver the wow factor?
The hexagonal flooring adds a hint of quirky to the kitchen. The custom-made, encaustic tiles create an arrow-like pattern, drawing your eye up from the floor to the peninsula where the tiles follow through.
Describe the lighting
Pretty yet contemporary exposed bulb pendants in pastel pink, green and grey hang above the peninsula to give a touch of fun to the scheme. A soft pink pendant with large shade sits over the dining table to create an additional lighting feature. The cabinet lighting is controlled on a remote for ease of use.
What are the wall and floor coverings?
The soft, grey-green paint colour, Pigeon by Farrow & Ball, sits alongside a subtle pink accent colour, China Clay Dark by Little Greene to create a calming, feminine scheme. Similar colours are then picked out in the hexagonal, encaustic floor tiles in a random pattern design.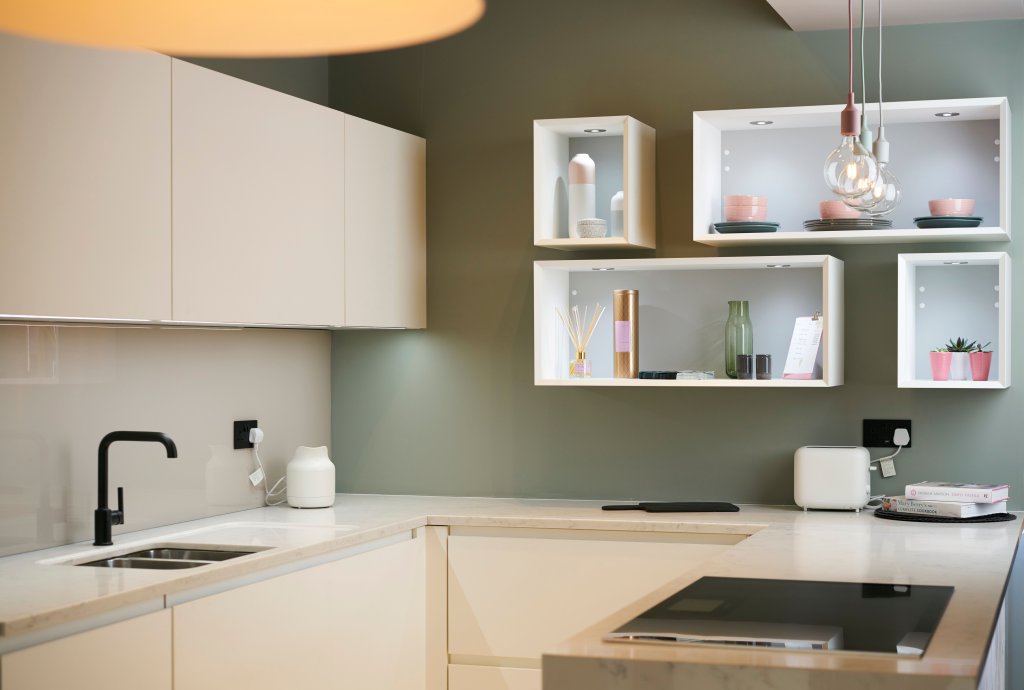 Any interesting textures going on?
Rough or harsh surfaces have been avoided in order to complement the soft feel of the colour scheme. Textures are kept soft and smooth, the matt surface of the cabinetry very smooth and almost silky to the touch.
What's your favourite bit?
Although high-gloss is still a very popular choice for kitchen cabinetry finish, I really love the super-matt finish of this handleless design. It has an ultra-modern feel to it and I would suggest it will be quite an on-trend option. Very sleek yet subtle, this finish is very tactile and also very practical for keeping clean. It is even possible with this particular white surface to iron out any marks or stains. Of course, please refer to instructions before trying this with your own kitchen!