7 Beautiful Design Details To Enhance Your Kitchen Design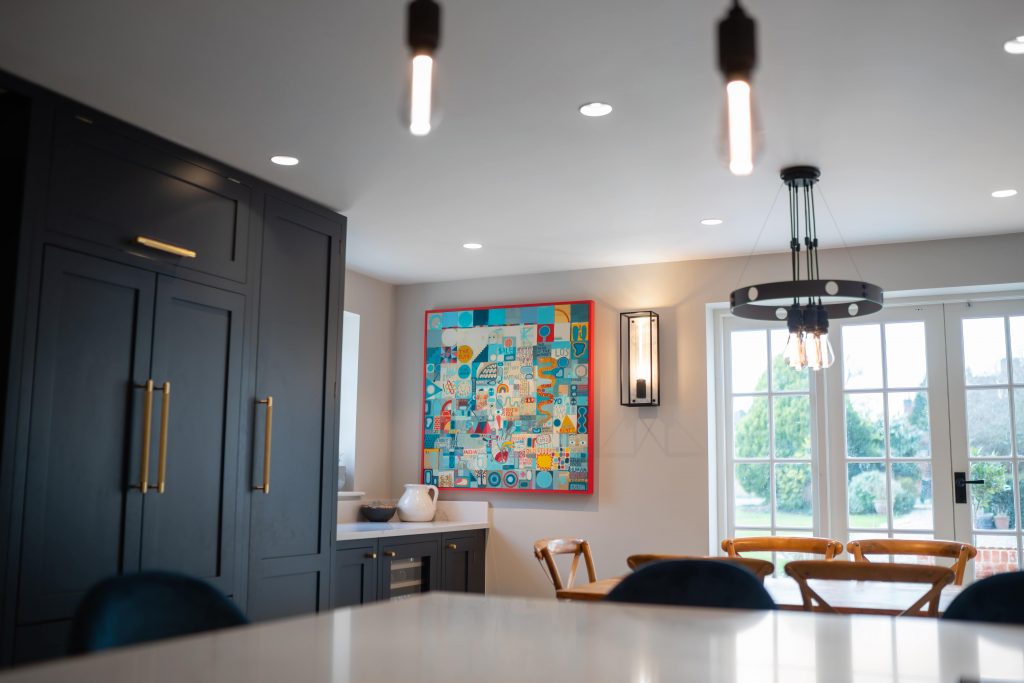 Here at The Brighton Kitchen Company, our award-winning team designs truly spectacular kitchens. Kitchens that transform the everyday into the extraordinary. Often, what sets our exquisite interiors apart is the meticulous care dedicated to achieving a perfect harmony of colour, texture, and form; and at the heart of this framework sits a collection of sublime design details.
In this blog, we'll be sharing with you some of our favourite design tips and features to help you enhance your own Sussex kitchen and take your space from elegant to exceptional.
Perfectly Aligned Handles
Even the most subtle details can dramatically transform the look of your interior. The bespoke panelling below created to perfectly match the length of our stylish knurled gold handles elevates this shaker cabinet from something simple and elegant to something truly spectacular. The clean and slim lines of the door beautifully draw attention to the luxurious gold handles. Though appearing quite understated, the effect this simple detail has on the eye adds an impressive dimension to the design, creating a distinctly high-end feel.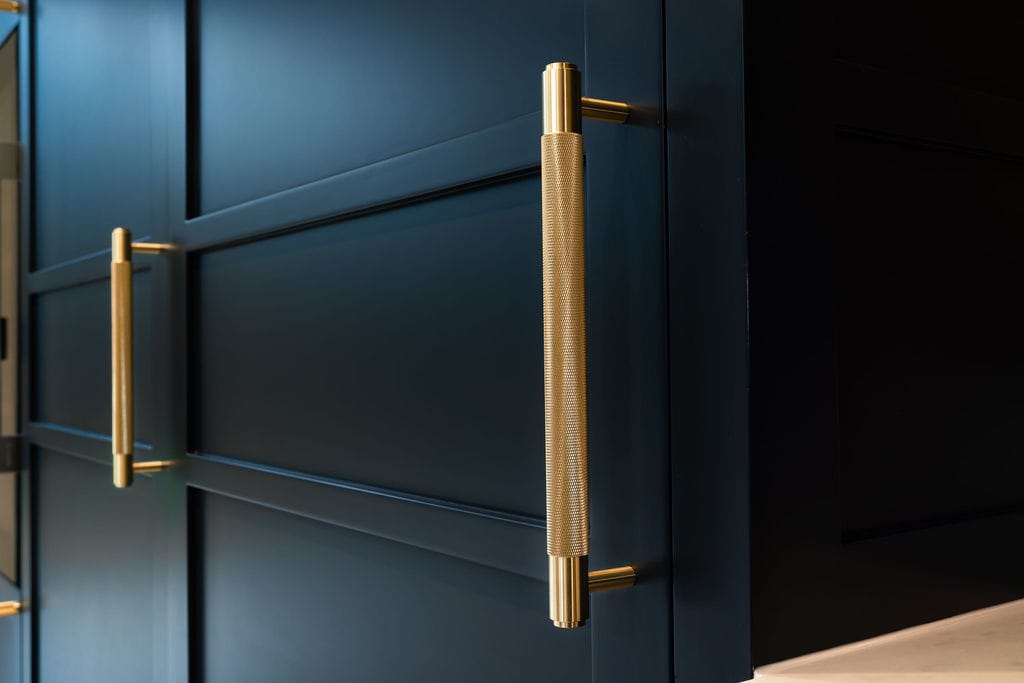 A Touch Of Natural Wood
Creating a really showstopping kitchen design often requires establishing a sense of balance; juxtaposing light and dark, warm and cold, and textural and sleek.
When it comes to adding warmth and texture, natural wood is the perfect choice. In the kitchen below, a Spekva Oak breakfast bar interrupts pristine black cabinets and a flawless Sirius worktop, breaking up the expanse of dark colour and creating an effortlessly elegant composition of materials. The organic oak surface simultaneously establishes a sense of cohesion between the kitchen and dining area. Natural wood accents can also be added to your Sussex kitchen through shelving, worktops, floors, and seating.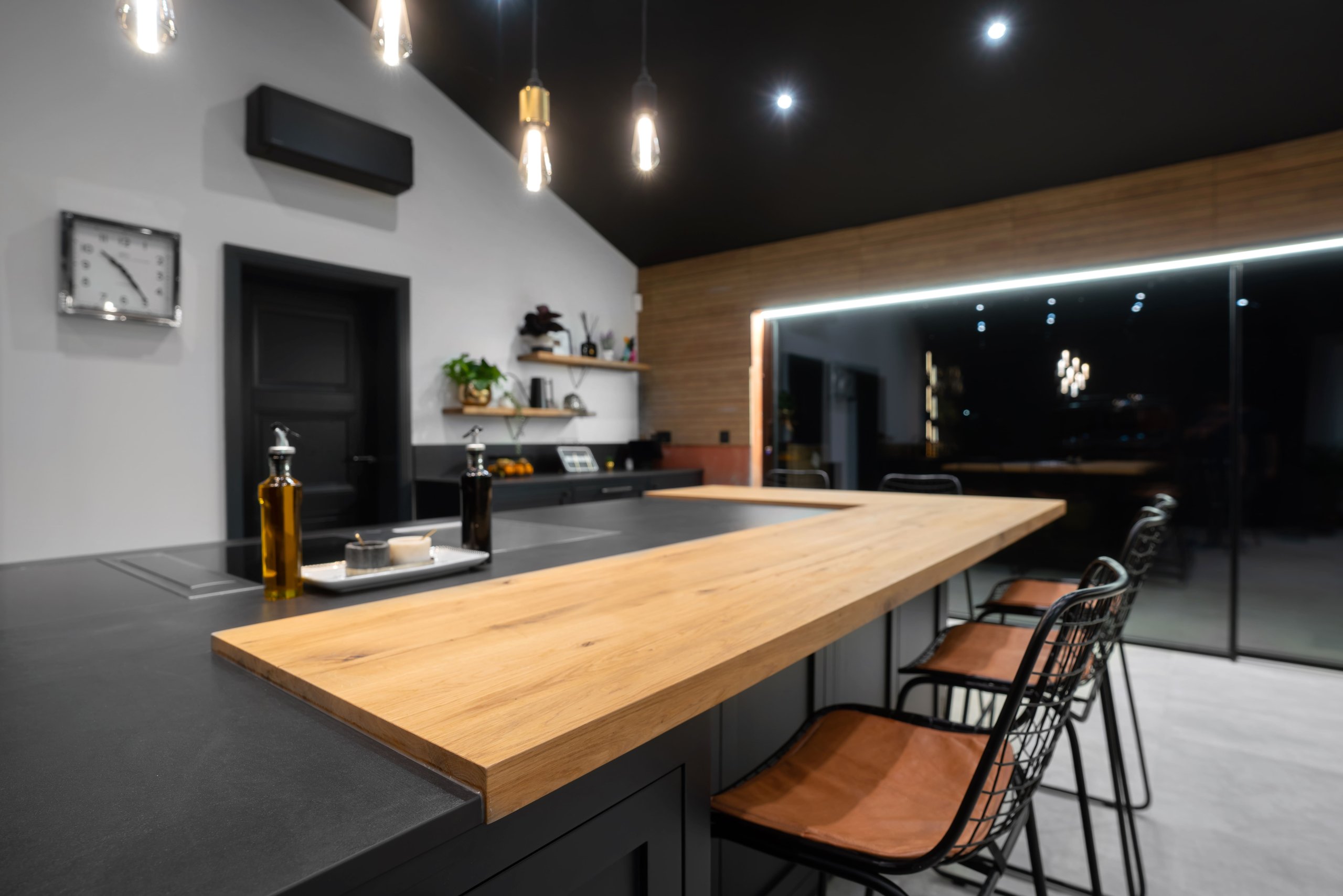 Oxidised Metallic Textures
Another textural element we love including in our Sussex kitchens is oxidised metals. Whether you opt for a dappled brass or tarnished copper, the rich and intricately patterned surface brings a sumptuous yet characterful feel to a space. This material works particularly wonderfully as a splashback, as this allows a series of stunning undercabinet task lights to illuminate and enhance the organic texture and metallic shimmer of the surface.
You can also introduce metallic textures to your kitchen through door-mounted mirrors, handles, taps, worktops or even bespoke wall panels or designer radiators.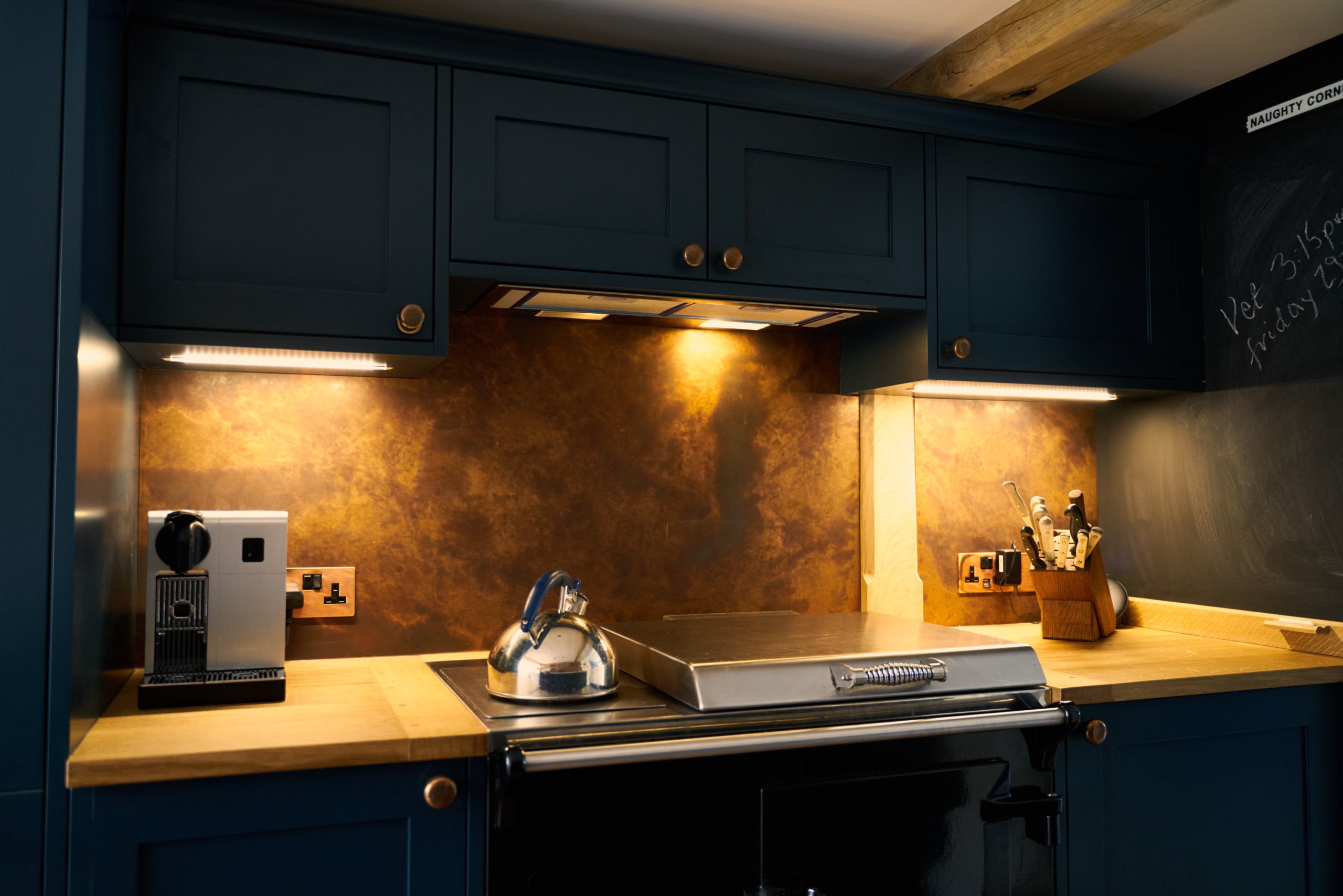 Sumptuous Bar Stools
From plush velvets to luxurious leathers, elegant bar stools make a perfect finishing touch to a beautifully styled interior. With so many eye-catching and unique designs to choose from, there's no limit to the individual personality and charm you can bring to your space. The vibrant and glamorous bar stools below add a real contrast to our client's minimalist, industrial interior. Injecting a bold pop of colour and texture, these stylish bar stools bridge the boundary between the kitchen and living areas.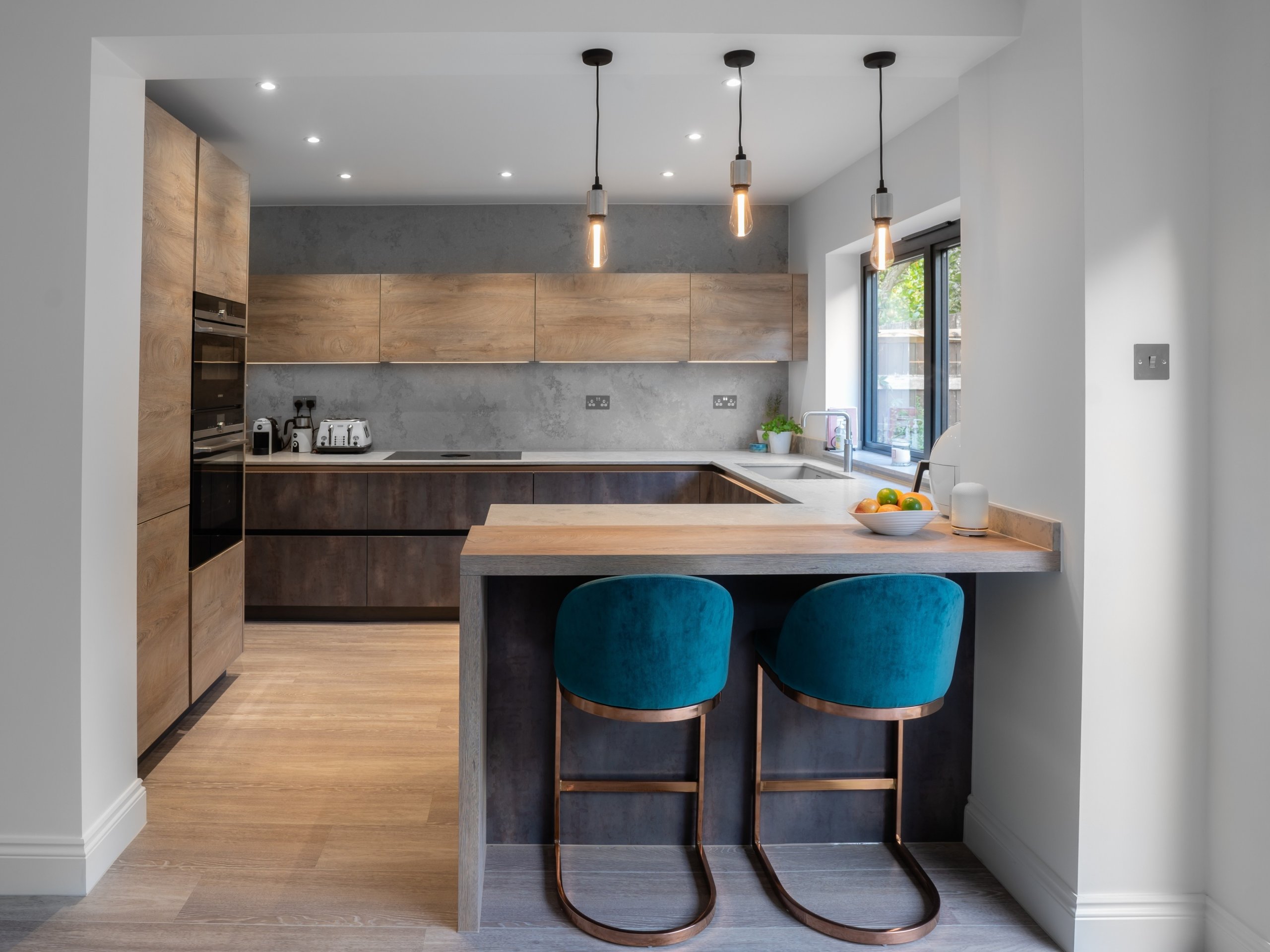 Eye-Catching Artwork
As a primarily functional space, decorative details can sometimes be overlooked. However, striking artwork can add a real wow factor to your kitchen. It's worth being brave and opting for a large scale painting or canvas, as this will make a truly distinctive and confident design statement. Whatever style of image you choose, the right choice of artwork will undoubtedly suffuse your space with vibrant energy and personality.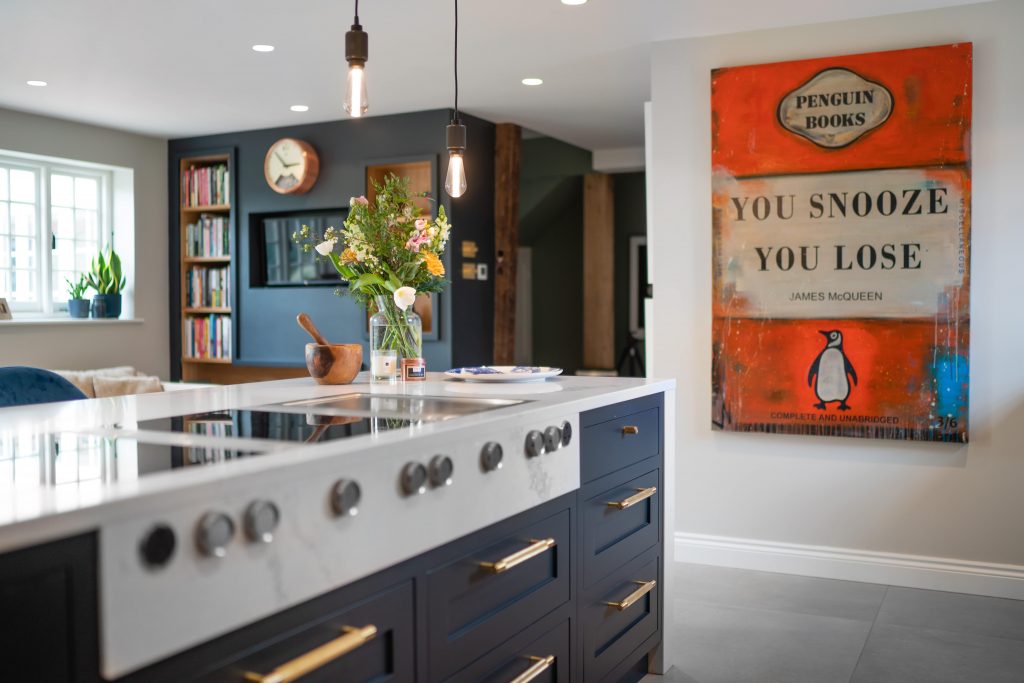 Elegantly Layered Lighting
Lighting is so much more than just a means of providing visibility. From stylish pendant lights to glowing shelves and illuminated alcoves, lighting really brings another dimension to your design, creating a beautiful ambience as well as adding a rather glamorous touch.
In the sleek contemporary kitchen below, a trio of lantern pendants elegantly highlights the spacious island. Alongside this, a subtle strip of lighting illuminates the rail beneath the worktop, creating the illusion that the work surface is floating just above the cabinets. The various carefully considered layers of lighting in this stylish kitchen cleverly further the clean and sophisticated atmosphere.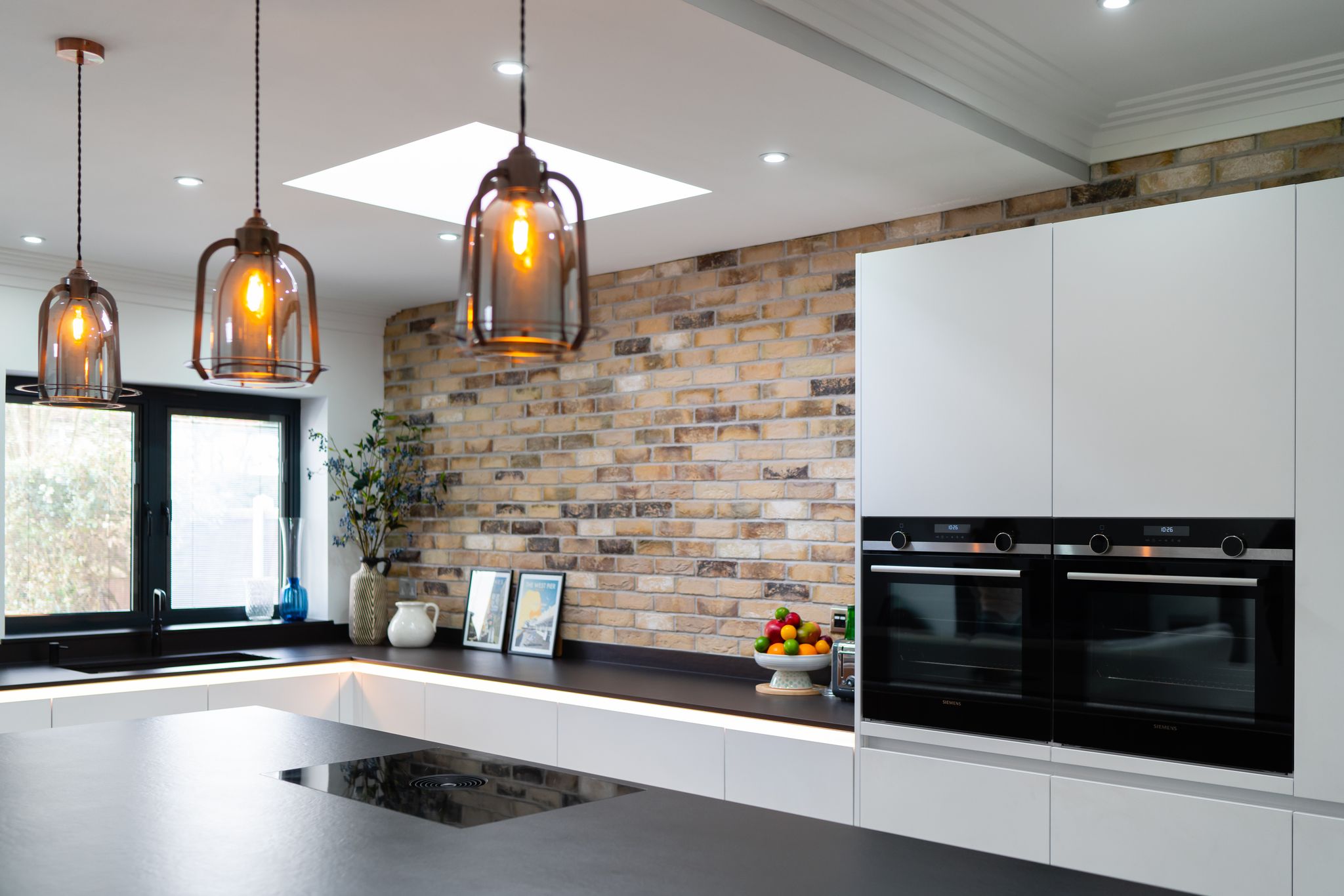 A Secret Passageway
Admittedly, not everyone can include a secret passageway in their kitchen but, nevertheless, we couldn't mention our favourite design features without including one. Hidden seamlessly within a row of tall cabinets; just like Narnia, the concealed door is only for those who know how to find it. A fun, playful and charming feature, who wouldn't love to include a secret doorway in their kitchen?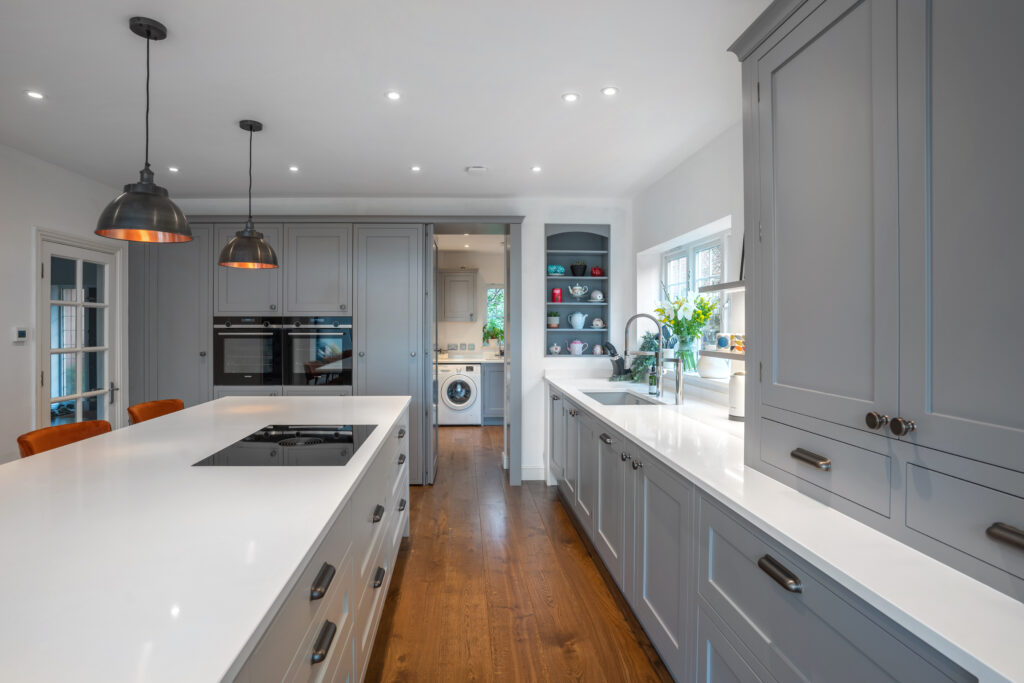 The attention to detail we dedicate to all our Sussex kitchen projects undoubtedly elevates them into something truly spectacular. However, with a little thought and careful planning, you can add a luxurious touch to your kitchen too.
If you've been inspired by any of the ideas we've mentioned in this blog and would like to find out how we can help transform your home, please don't hesitate to get in touch. You can call us on 01444 647640 or email [email protected]